'Dinez avec nous, nous vous montrerons plus'
     Dine with us, and we will show you more….
Le Privé is the newest French fine dining experience to finally grace Manhattan. Bestowing onto the NYC community unmatched elegance and exquisite hospitality, the Theater district and Hell's Kitchen will never be the same. It is set to open at 626 10th Ave., between West 44th and 45th streets. Infusing tradition with modernity, the classic with the new— Le Privé aims to fill a void. Typically ascribing to French-European roots, French restaurants rarely extend beyond nationalist dishes: Moules et frites, la soupe d'oignon, and escargot. Le Privé, however, aims to honor colonial traditions that surpass colonial discourse. It epitomizes the cultural fractal—culinary fractyll—in every sense of the word.
Spearheaded by Sanjay Laforest and his team at Prive Group, LLC—Le Privé caters to professionals, intellectuals, and artists alike. Imbued with Victorian style dining room and 20-foot ceilings lavishly studded with six chandeliers, the venue's ornate mirrors and vintage chic décor boast grandeur and comfort. Featuring a long, serpentine bar, street-side terrace and back garden patio, Le Privé is an ideal destination for business, birthdays, intimate rendezvous, families and more. When asked of his inspiration for the enterprise, La Forest responds:
"From a young age I had a passion for opening my own business, but I never knew what it would be. Both my parents are entrepreneurs and have owned restaurants, and a variety of businesses. I am an entrepreneur by nature; I have owned and still do own businesses that deal with sales, promotions, marketing, real-estate, event planning, and consulting, predominantly in the Manhattan market. Inherently, it was about time that I finally opened a business that could put all of these professional fields under one roof—a restaurant."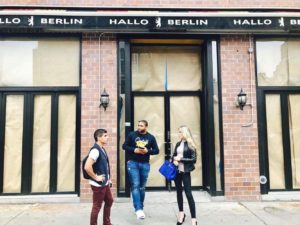 Chic—yet classic, hearty—yet light, Le Privé redefines French dining—all the way. French gastronomy aromatically infuses the seasoned meats and beans of Creole nativity with onions, celery and bell peppers—a "holy trinity". Meanwhile Italian, Spanish and Portuguese cuisines imbue spice, citrus and tomatoes to this crossroads of various immigrant experiences. Infusing the savory blends of Creole cuisine, strong meats and meaty fish stews are softened into croquettes and salads, or riled up with garlicky accompaniments. Meanwhile, gumbo is Caribbean reinvention of the French bouillabaisse. Kibbee may seem Lebanese, but is really more a Haitian favorite. Upgrading it with burrata and basil, Le Privé knows—that our only limit is your imagination. When asked where he sees Le Privé in 5-10 years, Laforest intimates: "Le Privé will be a staple in New York City. People from around the world will travel to dine at Le Privé."
Boasting a constantly refreshed menu, meticulously composed by Reagan Angelle, classic French dishes are accompanied by adventurous dishes and profoundly unique recipes. Farm to table fresh ingredients encompass a variety of culinary traditions within the French-colonial framework. Imagine the difference. Fine wines, mixologists, aged meats and artful aperitifs—all operating within the airy confines of an architecturally versatile enclave. 'There are Guadeloupian and Haitian restaurants in NYC. Laforest observes, but none as luxuriously cosmopolitan yet focused as Le Privé will be. Allons y!