---
---
Slipping into the Lower East Side enclave bestowed with upcoming and established artists, the Con Artist Collective  kicked off 2019 with its surrealism exhibit. Excavating the unconscious while unlocking its creative potential, members and residents of the in-house collective morph reality, imbue color with strange shapes and forms, and inject viewers with lasting impressions of what is and what could be.
I had the pleasure of speaking with artist Dmitry Kiper who identifies as a SEA, or Surreal-Expression-Abstract artist. Showcasing a series of four paintings on wood, the multi-dimensional quality of his work has viewers spiraling with interpretations. Fond of the double and triple images pivotal to surrealism, he is inspired by life, music and other artists—but not in a direct way: "Egon Schiele  (contemporary of Klimt) is one of my favorite artists, but I don't try to copy him. It's more about the spirit of his intonation and expression". Embracing 'chance' and 'process', Kiper refrains from calculating or planning his works:
"My approach is improvisation; it's about being as much in the moment as prioritizing process over product. I'm not obsessed with what it's going to be, but what it is now."
A spontaneous expressionist, extemporaneity further struck its sword that evening through Kiper's live painting exhibition. Reading from Surrealism Poetry, a Penguin classic, while painting with boxing gloves instead of with brushes, Kiper's work embodies the tenets of surrealism: Swaying to the unknown, surrendering the psyche, and stretching beyond the empirical. "There are no triangles and squares in nature, only circles," he says, affirming the surrealist's affinity for nature and the uncanny.
"I want to produce the gift that keeps on giving".
I also had the pleasure of speaking with Yuliana Lopez, a Colombian artist whose vibrant piece my eyes could not escape. Acrylic on canvas, her tropical rendering of Karol G the renowned Colombian raggaeton singer and songwriter, is eye-catching and layered. Clearly a colorist, Yuliana's intricate collaboration of pineapples, shapes and character pop through textured color placement and intricacy. "Pineapples are a symbol of sexuality, so the piece is about sexuality, fun and just enjoying life." Using fruit to echo a sentiment or connection to the artist's music and strong female entity, Lopez's brilliant choice of colors is truly therapeutic.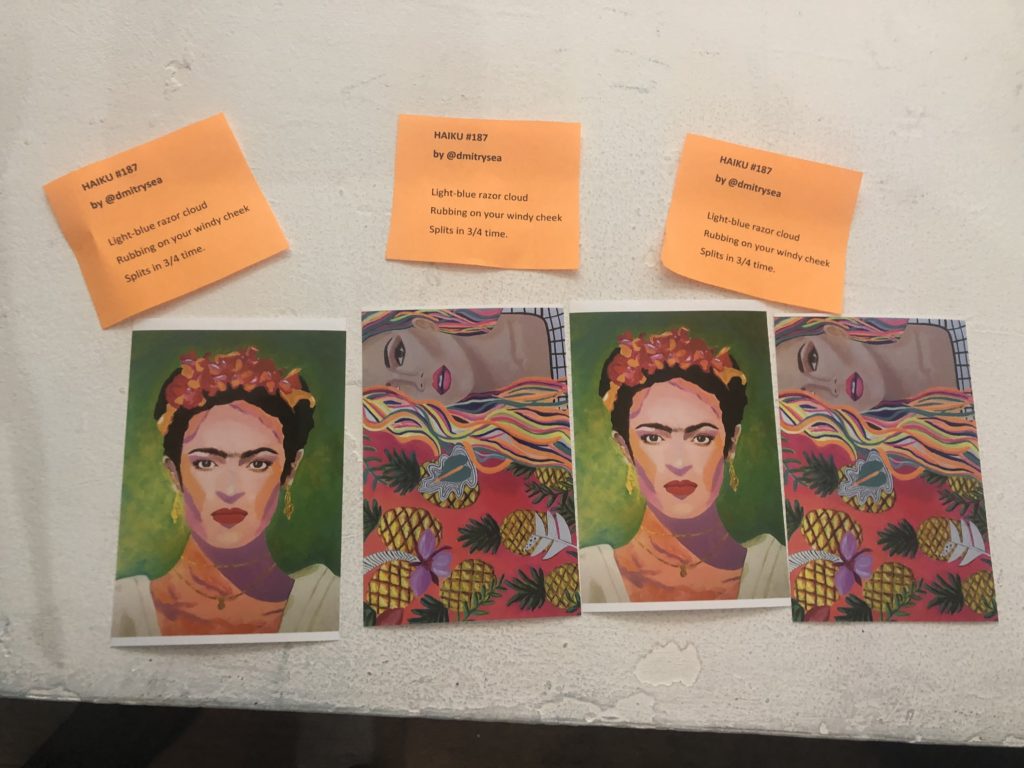 "Whatever you go through in life, I try to perceive the good in everything, person or situation; I try to portray positivity. There's always the painful and the political, but me—I try to free people of their struggles and to brighten them up with colors."
Upturning anyone's frown to a smile, Yuliana herself is as creatively fashioned as her protagonists. Poetically delivering an essence of the interior through the exterior, she embodies surrealism with every hair strand and brushstroke.
"Colombia is a culture that went through a lot of struggles, and yet again you go there and the people are so warm. I guess it's because if you go through a lot, you appreciate the good."