"Beauty, Art and Fashion" event last week on Manhattan's Upper East Side generated fractals all around. Hosted by Dr.Theodore Diktaban, a double board certified plastic surgeon with over 35 years of experience, his emphasis on one's natural assets is globally recognized.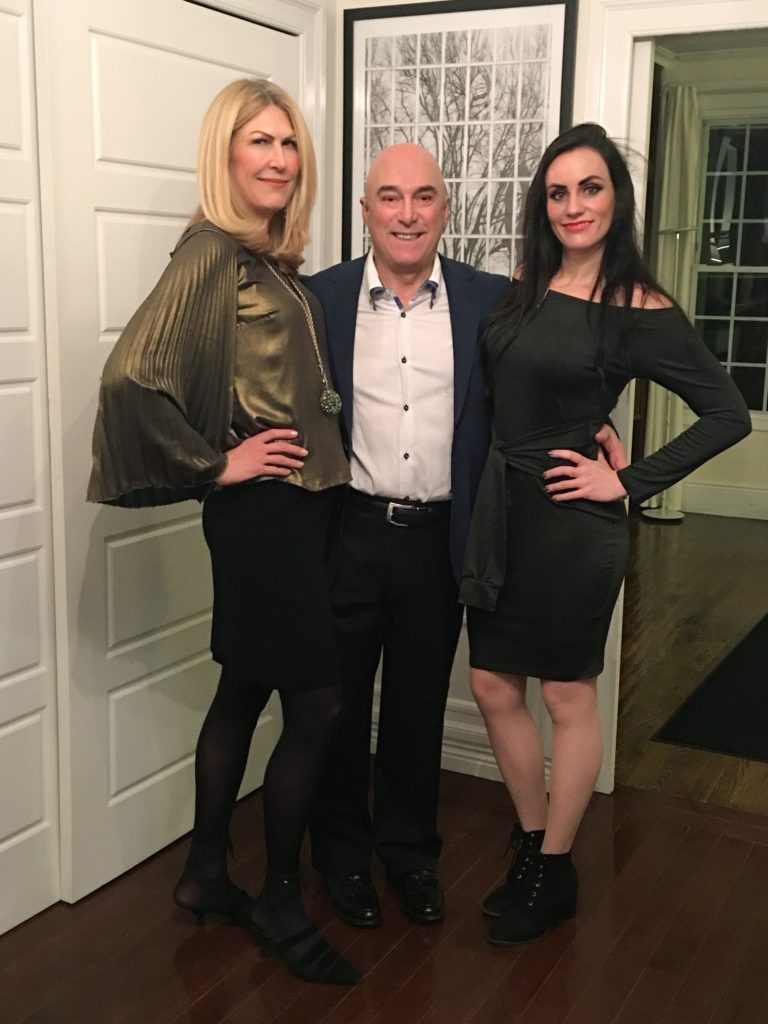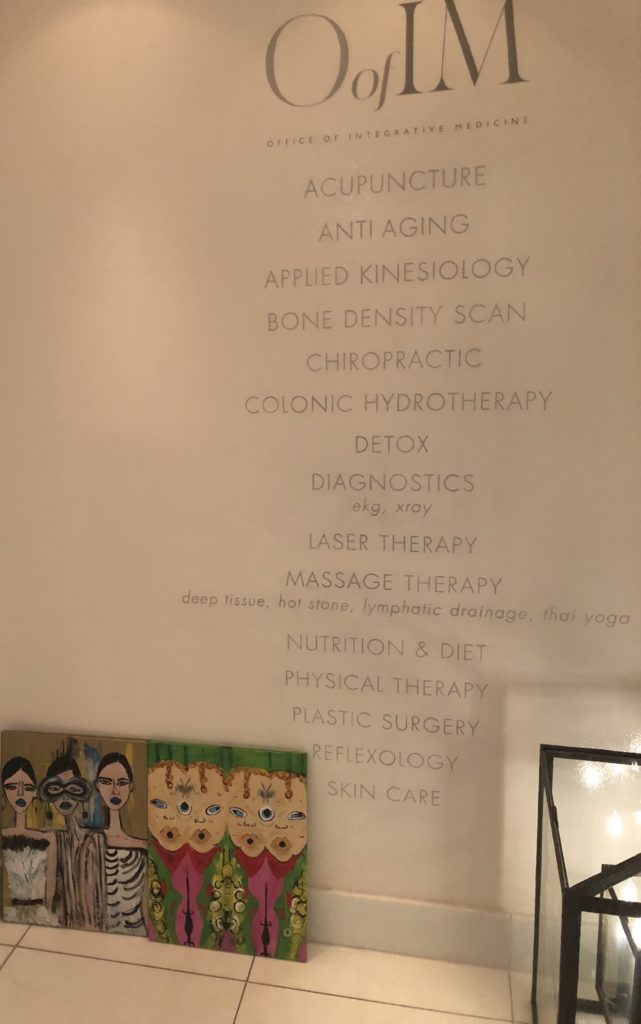 Public Relations icon Kimberly Schmidt curated the assemblage.  Daughter of renowned German artist Norman Gutschmidt Cleveland, Kim's background in finance, fashion, music and more render her a most dynamic fractal. Featured in American Spa Magazine, TimeOut, Talent in Motion, NY Post and more, she notes:
"You have to do the journey work, to cure the body."  
Experts on anti-aging and cellular rejuvenation, 635 Madison clearly has a lot to offer: Glutathione, a magical antioxidant I'm dying to try, and specialty collagen treatments to name a few. I also had the pleasure of meeting poet-painter Fares Rizk.  Showcasing 10 of his oil and acrylic paintings, I felt instantly soothed and brightened in their presence.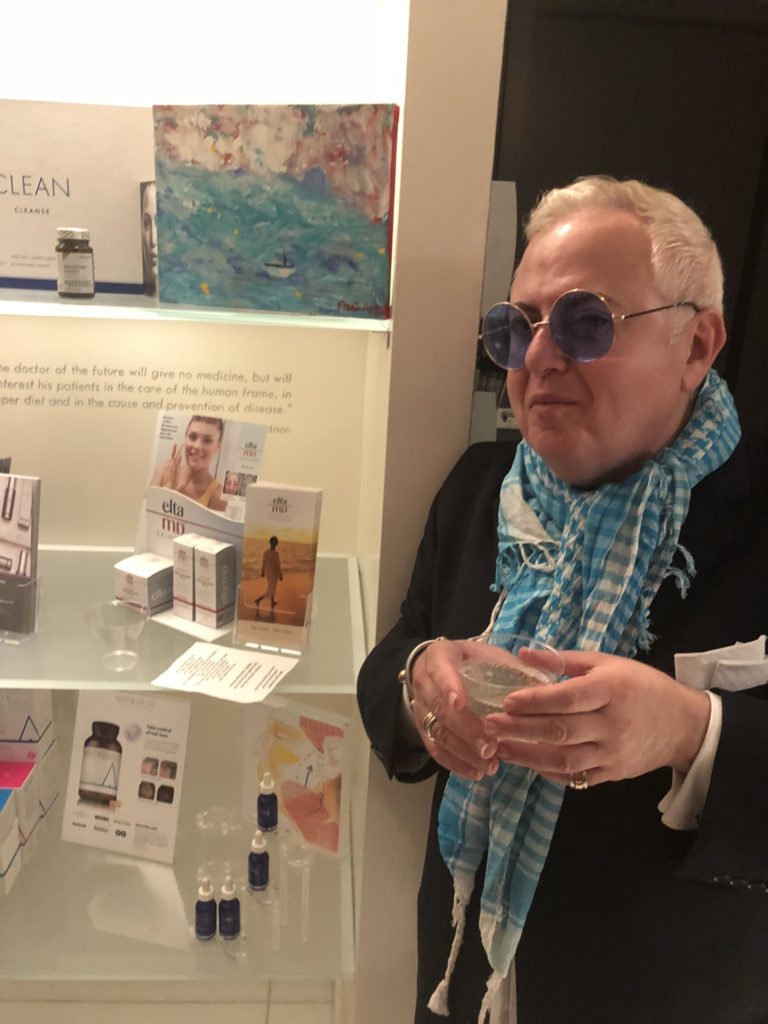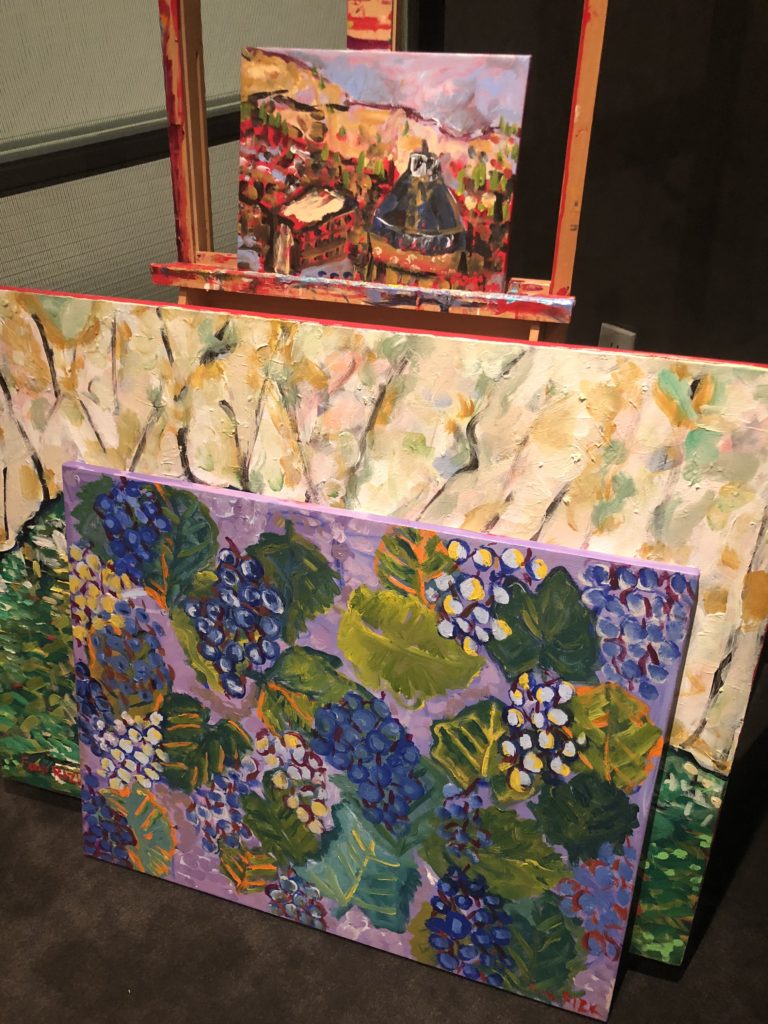 "Pinot Gris", "Nazareth", "Jerusalem," "No Barriers" and "Trilogy" pay homage to his Christian-Palestinian background, while others draw from his memories and landscape. Referencing Pierre Bonnard's symbolic spirituality, a stylistic similarity to Matisse and Picasso certainly ensues.
"I try to paint in a way that the viewer never understands how the brush arrives to the canvas."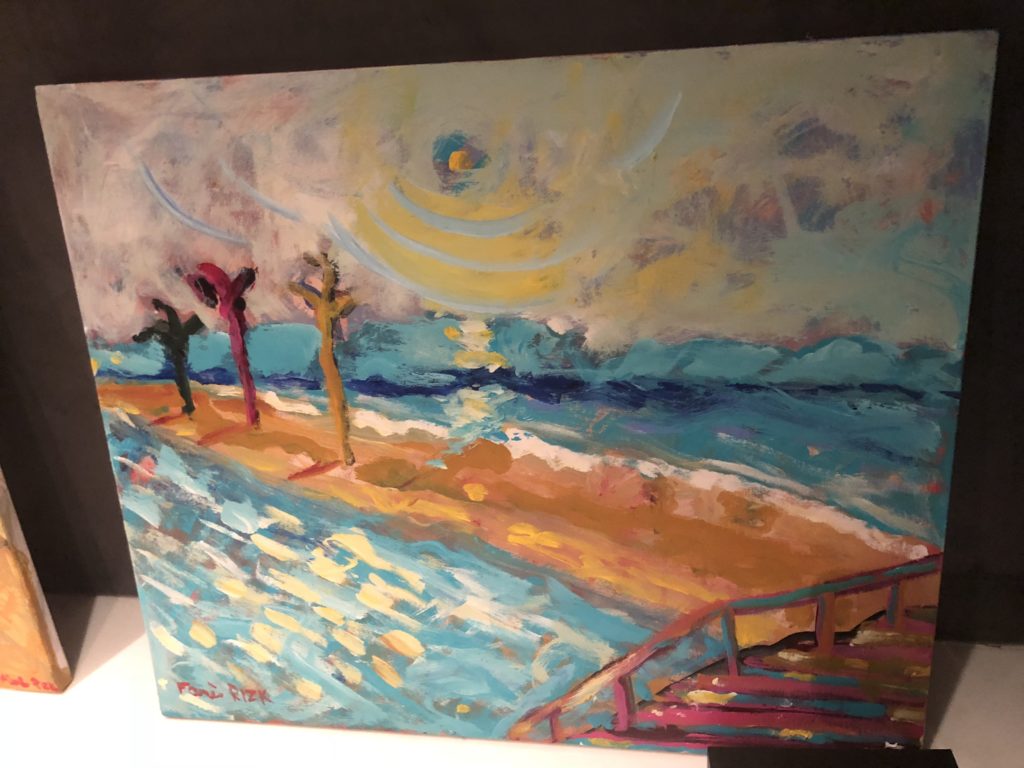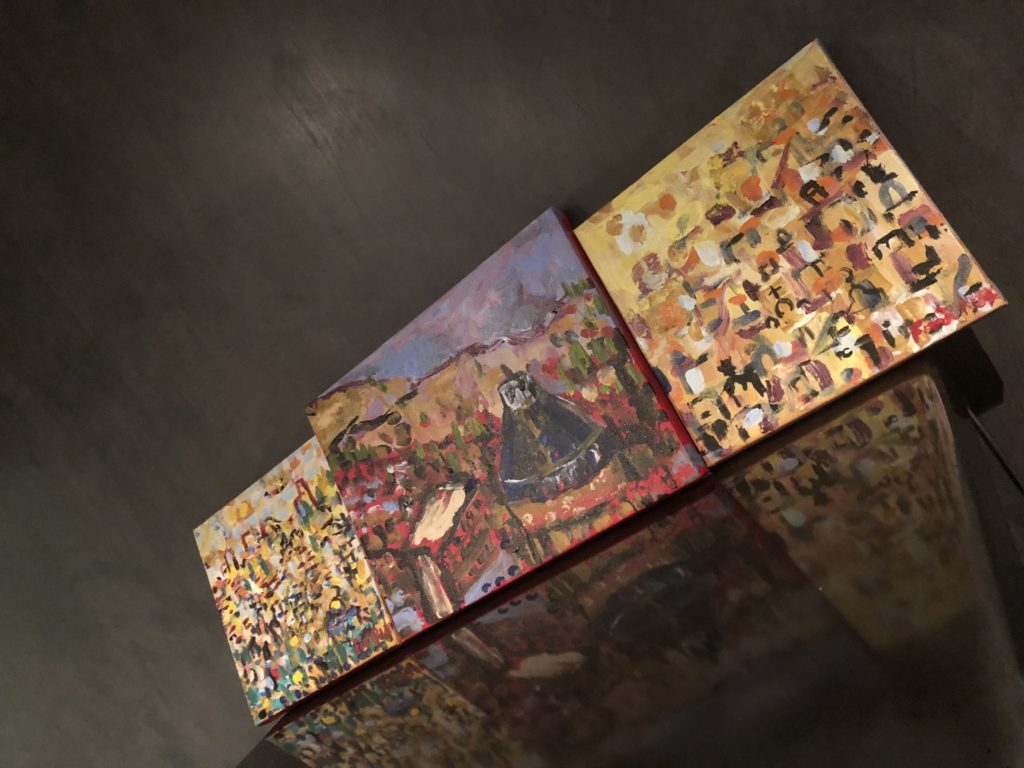 A chronicler of nature, his vibrant colors and varied brushstrokes interact purposefully on the canvas. "This one was inspired by wine; this one by a visit to Capri I made in 2011 for a wedding," he notes, recalling a swim he made with a cousin. "When you swim down close to the rocks the water is green, and when u go up it becomes blue. I told my cousin, 'I am going to go to New York, paint the white rocks and the tree and this.'" Born with an amazing sense of color that no teacher or degree can teach, "Color is something in you" declares the poet, who's lucky and fortunate enough to have had incredible teachers since high school. His works are regularly featured at his home base gallery, Wadi Finan Art Gallery, in Amman Jordan.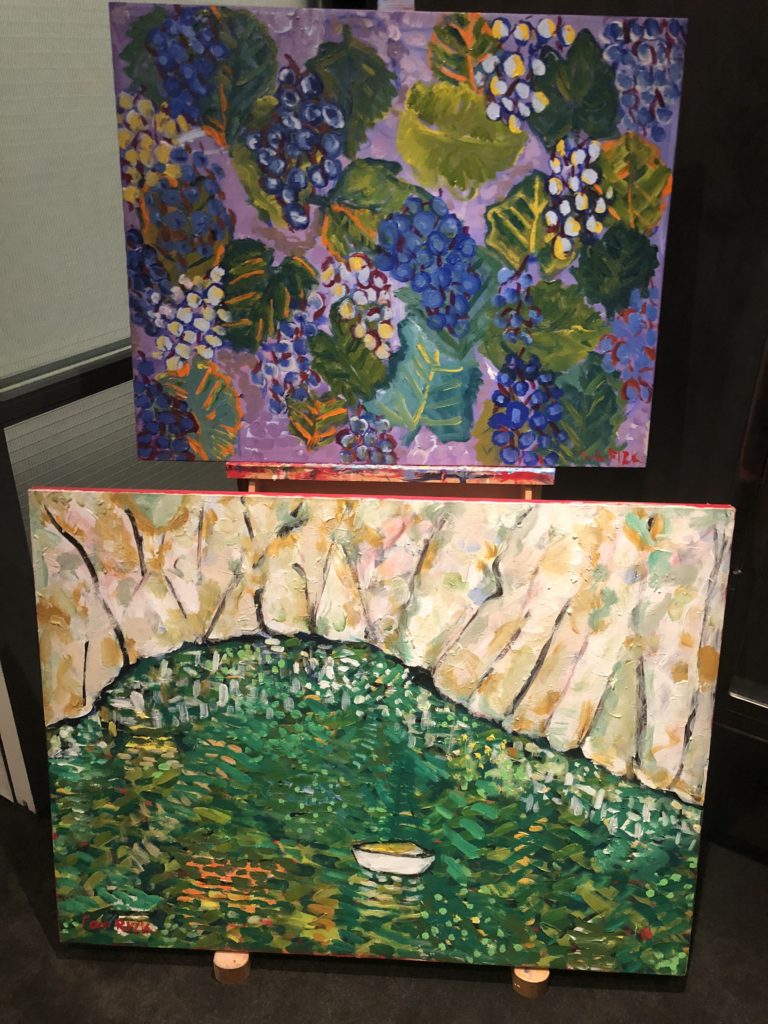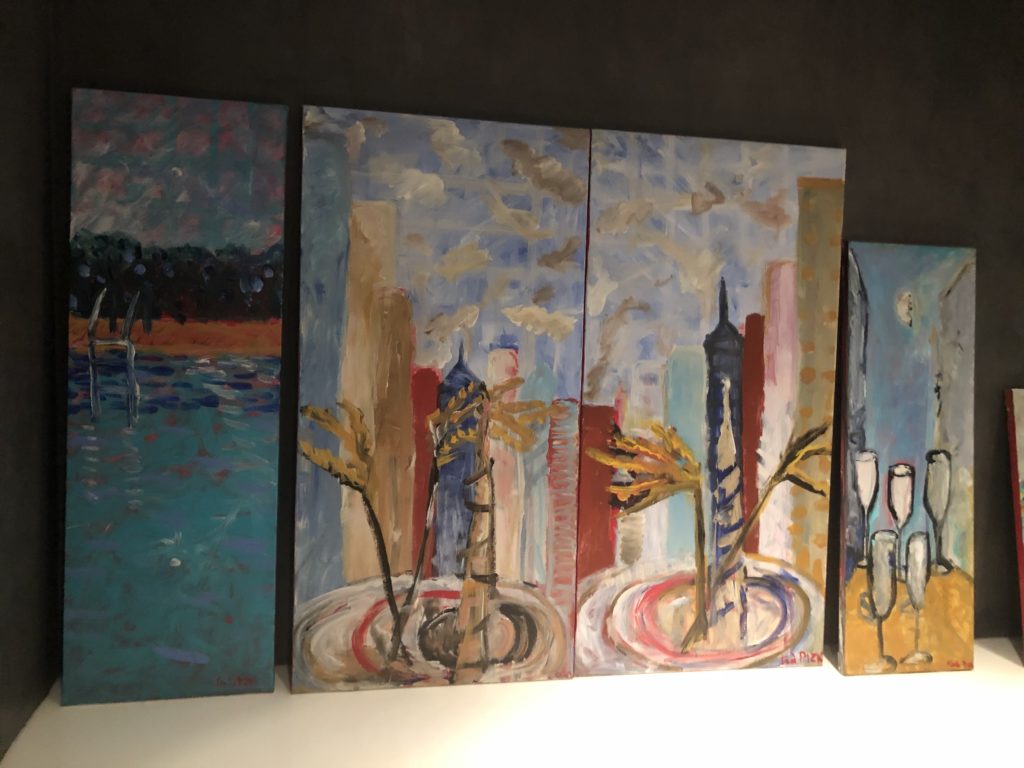 "I worship them… all these people today on their cell phones will never understand what I learned from my teachers at Parsons."
A colorist, Fares Rizk learned color from growing up in Egypt, Amman and Beirut. Egypt instilled in him a fondness for the ashy Sienna color, present in the alluvial Nile riverscapes. Jordan further informed his color evolution thanks to the girls wearing 'bright pink, green, yellow, orange dresses' during the holidays. Albeit memory, and landscape, a beach, or love—Rizk emotionally confronts moments with texture, style and grace.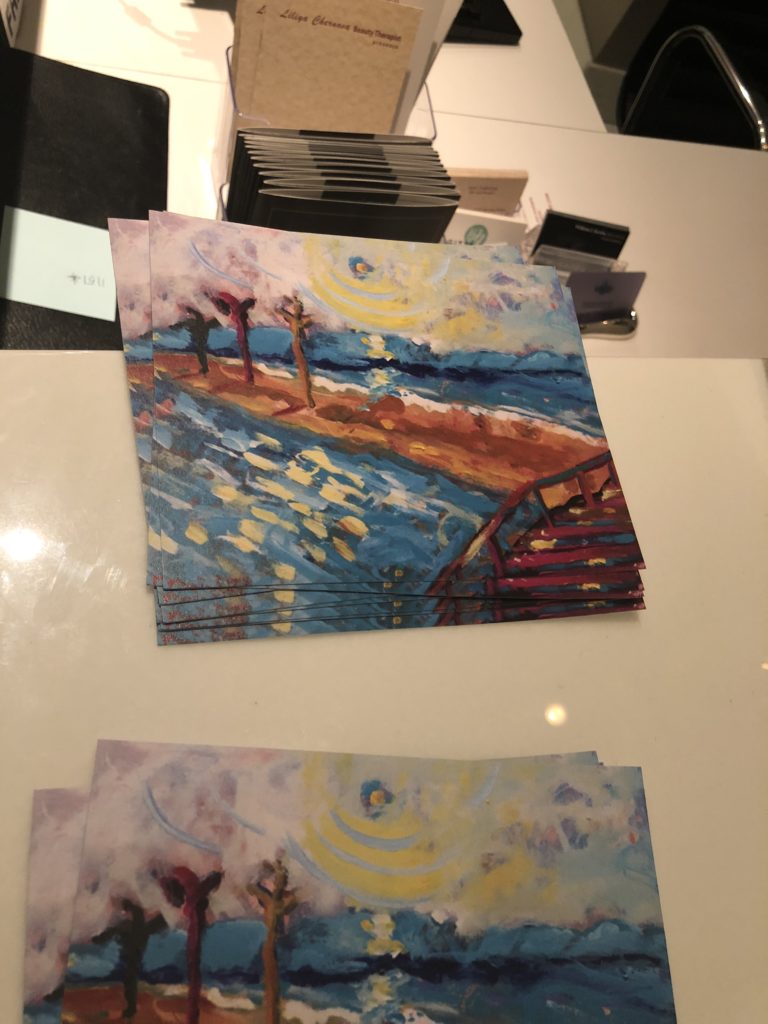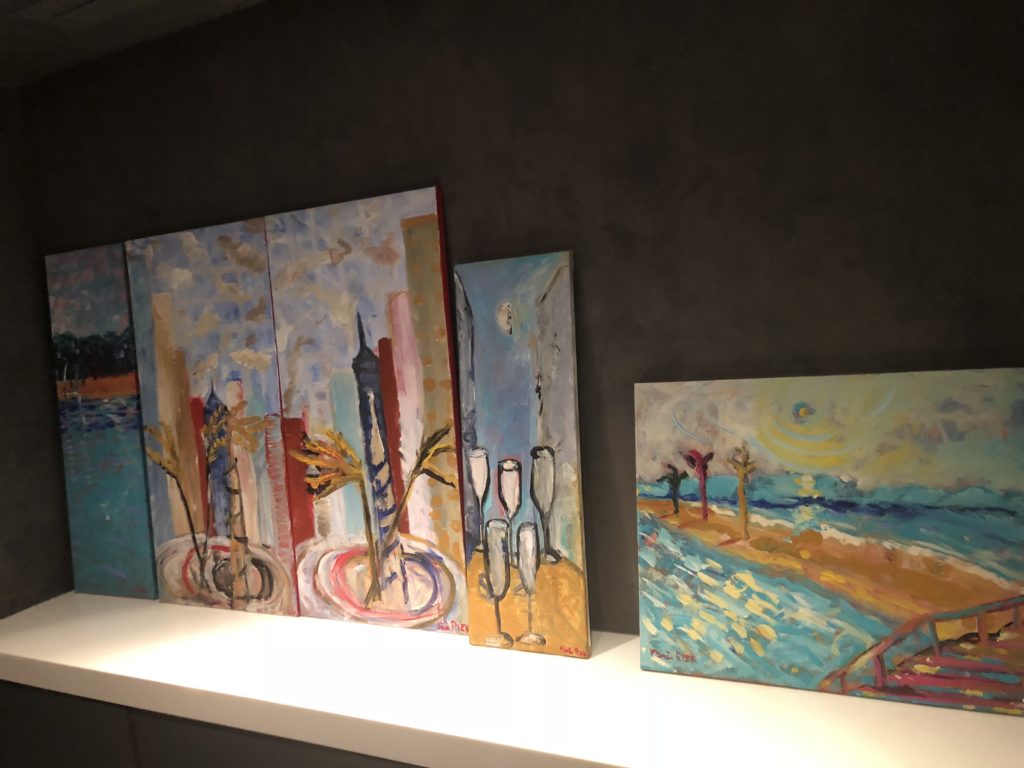 A hard-core New Yorker, Fares Rizk lives in Manhattan, but understands it is an island. "Alone at 5am, I watch the clouds." Envisioning "The "Picnic on 2nd Avenue" upon seeing the moon at 5am, he'd imagined stopping traffic and setting up a table of champagne glasses. Spontaneous and positive, Fares Rizk aims to extirpate the love from simple moments. Shedding light on more complicated issues such as Jerusalem, the 'Holy Land' and "Diptych Columbus Circle" star-stud his reminiscent reflections of happier moments.
A princess recently commissioned him for a piece on the famous Southampton pool he loves. Calling it "Bungalow 28" (120' x 20')— "My friend Sonia had a pool and we loved here the hydrangeas, blue water and reflection…I always like blue and purple together." Documenting the trends of nature heretofore, with an urban appeal, it is no wonder his paintings were also shown in Tiffany's 'just in time for breakfast' campaign. Reveling in the joyful instance, Fares had a limo serving mimosas and croissants inspired by the movie Breakfast at Tiffany's.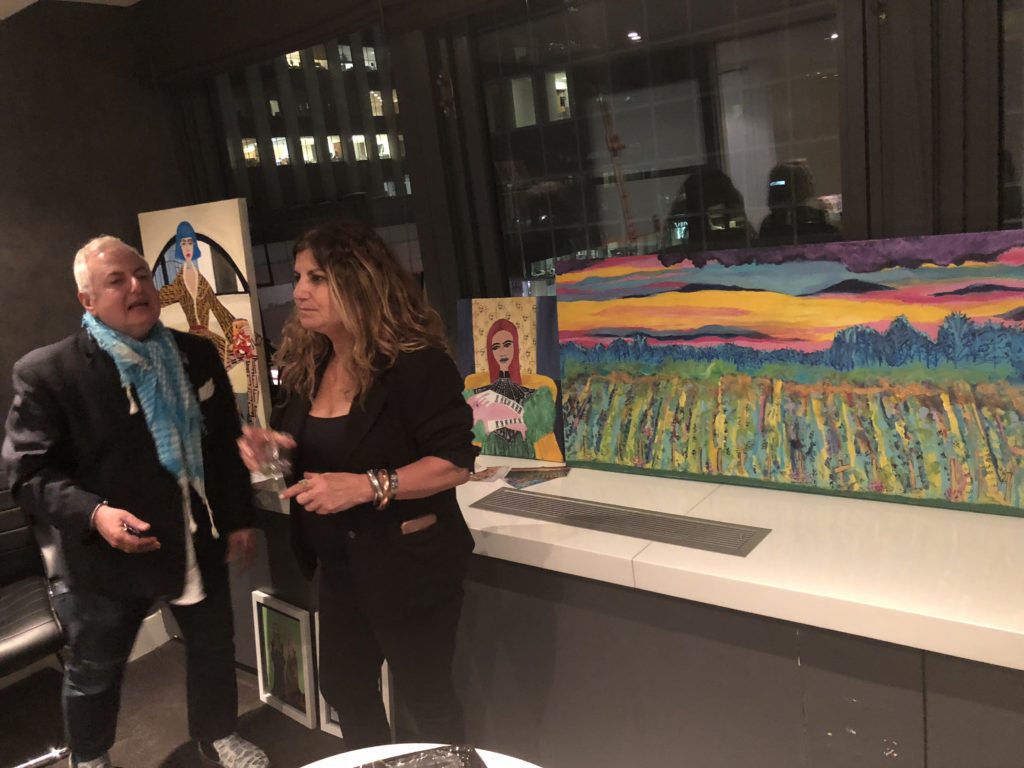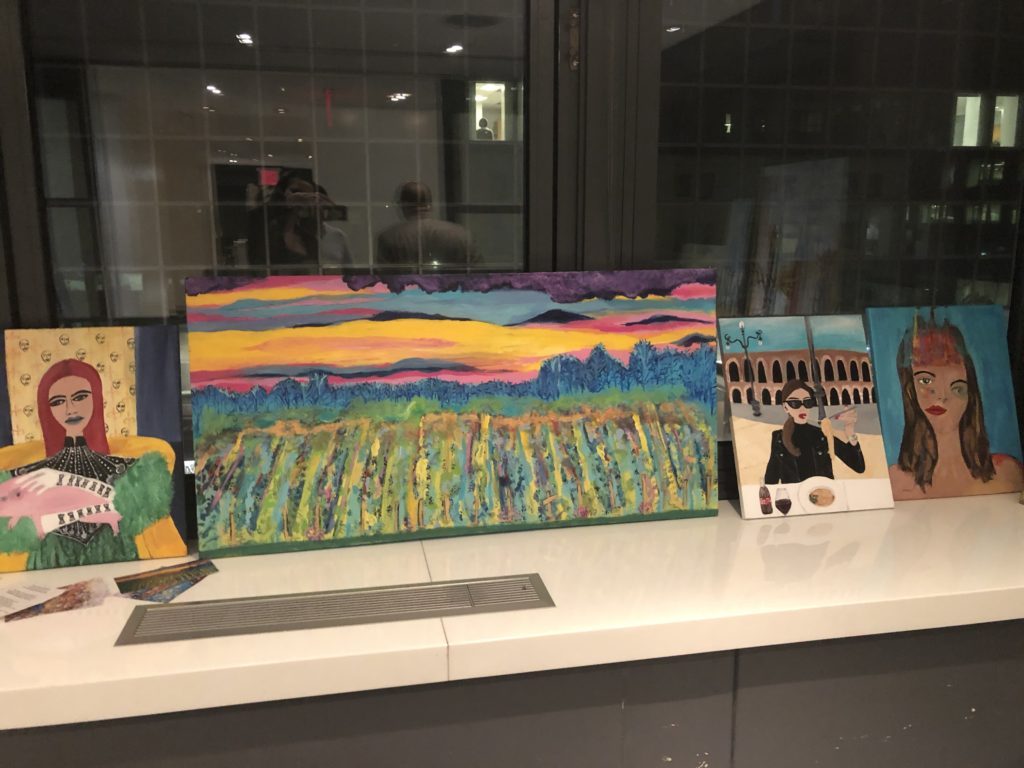 Art work by Brittany Minnes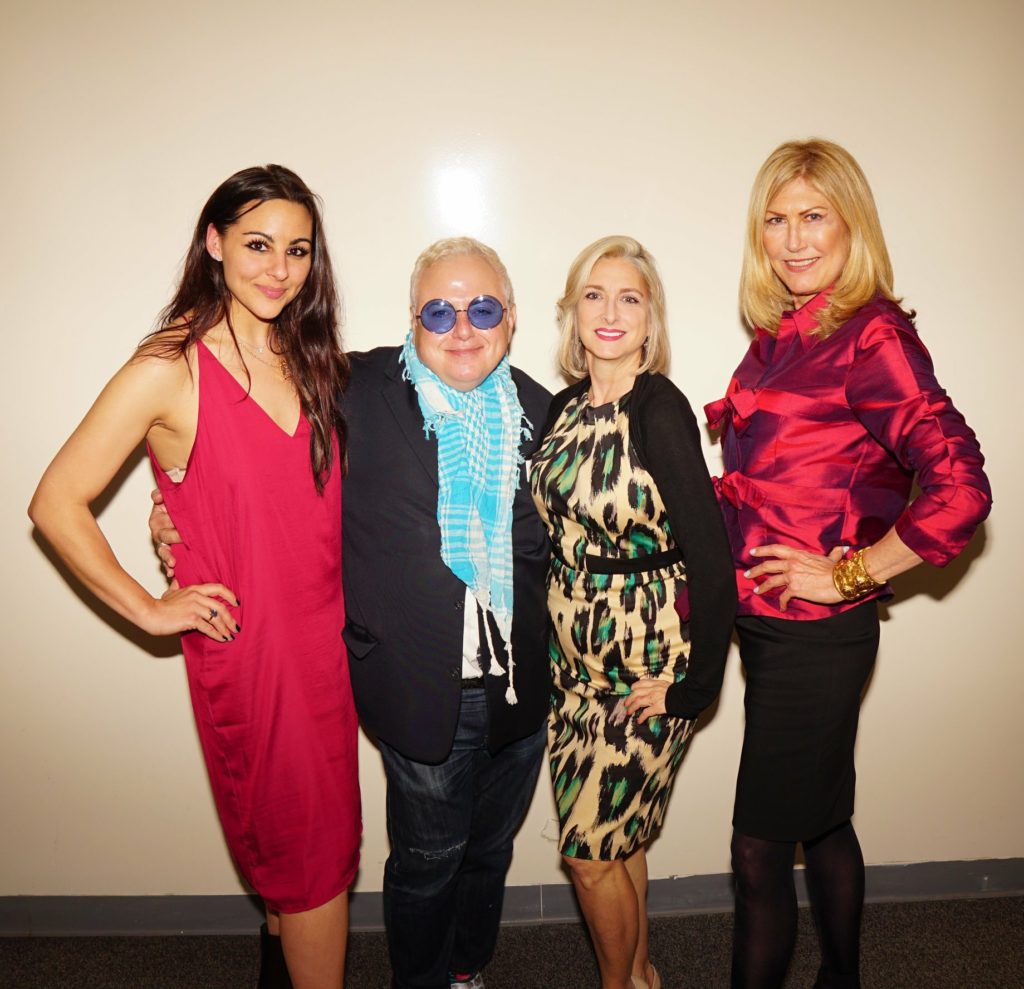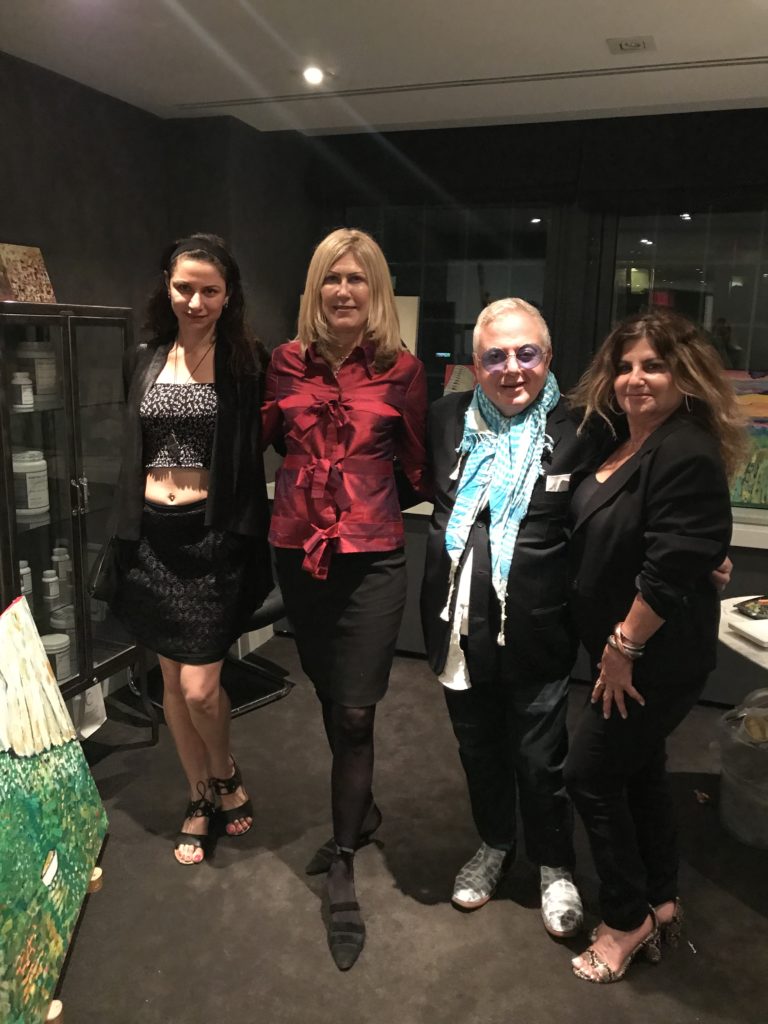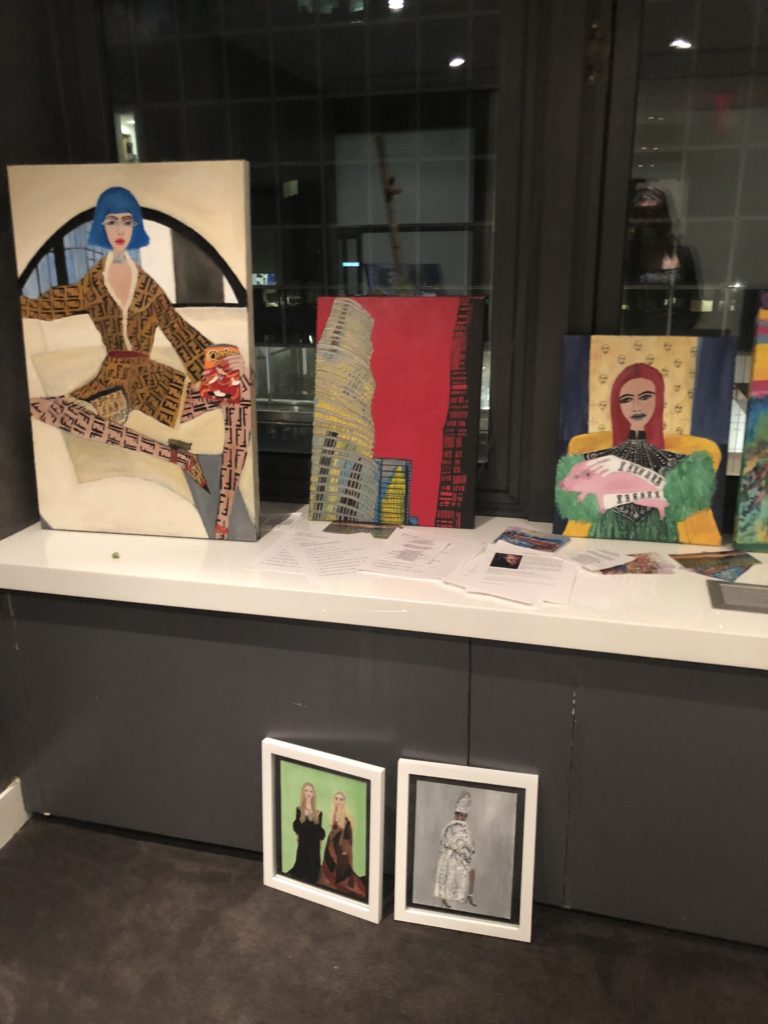 .               Art work by Brittany Minnes