Downward spiraling into the Covid-19 abyss, the human need for visual and figurative art magnifies. Lockdown may have stifled many artists' desire to create, but it has intensified patrons' hunger to appreciate and engage with the finer arts: Paintings, sculpture, photography, music, film, literature, design and cooking. Entrepreneur and curator Marina Dojchinov recognized this gap in the market. Launching The Zero Experiment, an immersive, virtual gallery enclave via Zoom every Thursday night—6-7pm EST—the viewers are given a intimate tour of artists' works. Albeit in their studios or homes, the visual expedition segues into a question-and-answer forum; pieces are subsequently auctioned off. 20% of all proceeds go to bolstering businesses, charities and communities impaired by the corona-crisis.
The May 14th experience featured expressionist impasto artist David Padworny, whose works take 100 years to dry. Employing oil paint into thick waves and sculptural gestures—portraits, figures, landscapes, cityscapes, animals and abstracts come alive. Intricate layers of paint fractally, or mesmerizingly, lift off the canvas, thanks to David's revolutionary take alla impasto, or wet atop wet.
"I don't wash the brushes, so to thicken the paint effect," he admits. "It'll dry to the light touch, but if sliced open 10 years later, the paint can still be reworked into another painting."
Impasto is more "gutsy", and allows him to be more contemporaneously expressive. Especially since it is painted on canvas that is primed with crushed glass and acrylic polymer.
"It captures that moment in time. It enables me to dance on the easel one stroke at a time".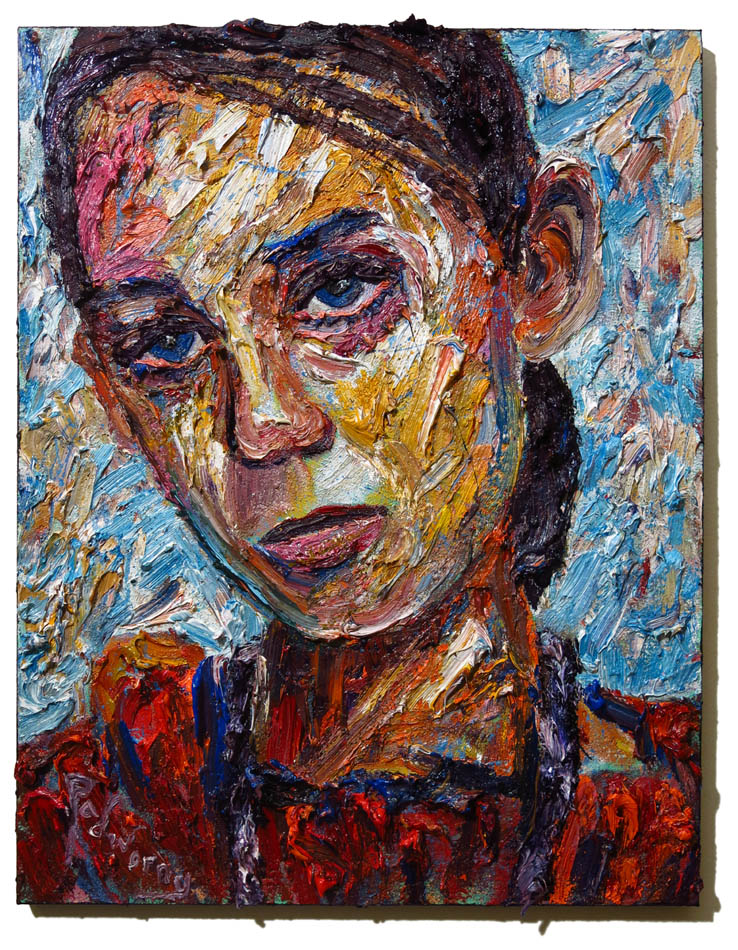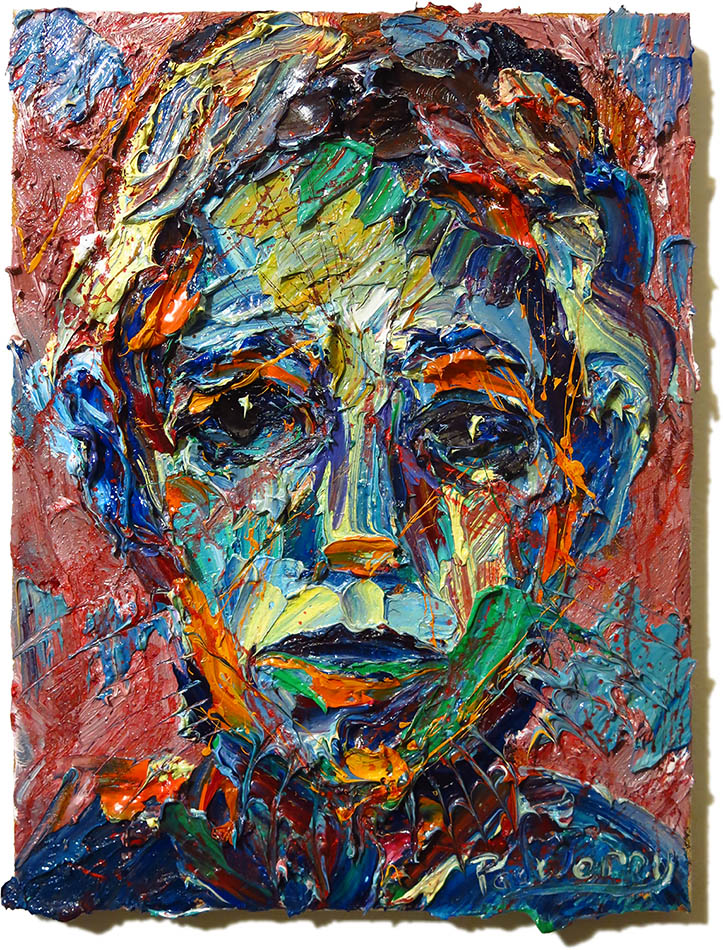 David Padworny enjoys the freedom of creating his own set of people. Animals became a favorite subject, upon moving to NYC from Baltimore. Preferring to create characters that are his own, and not of limiting concrete likeness, "not having too much information forces me to be creative," he asserts. "I'll work from a low resolution image, screengrab or drawing, so I have a limited amount of info." Inspired by the illustrator of Fraggle Rock books, Michael Adams—Padworny would watch him paint children's book illustrations as a child.
"He would give me large sketchbooks so I could draw on the floor while he worked. I remember how much I liked his lifestyle of working at home on illustrations and cartoons all day, especially in contrast to my father, who worked very hard at more typical 9-5 job."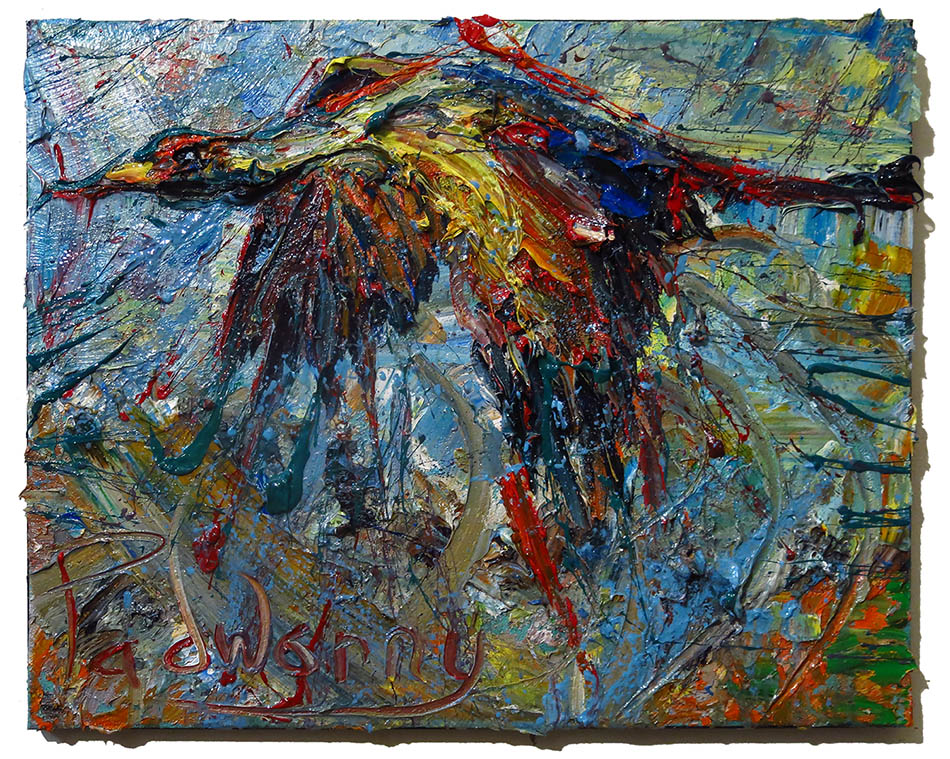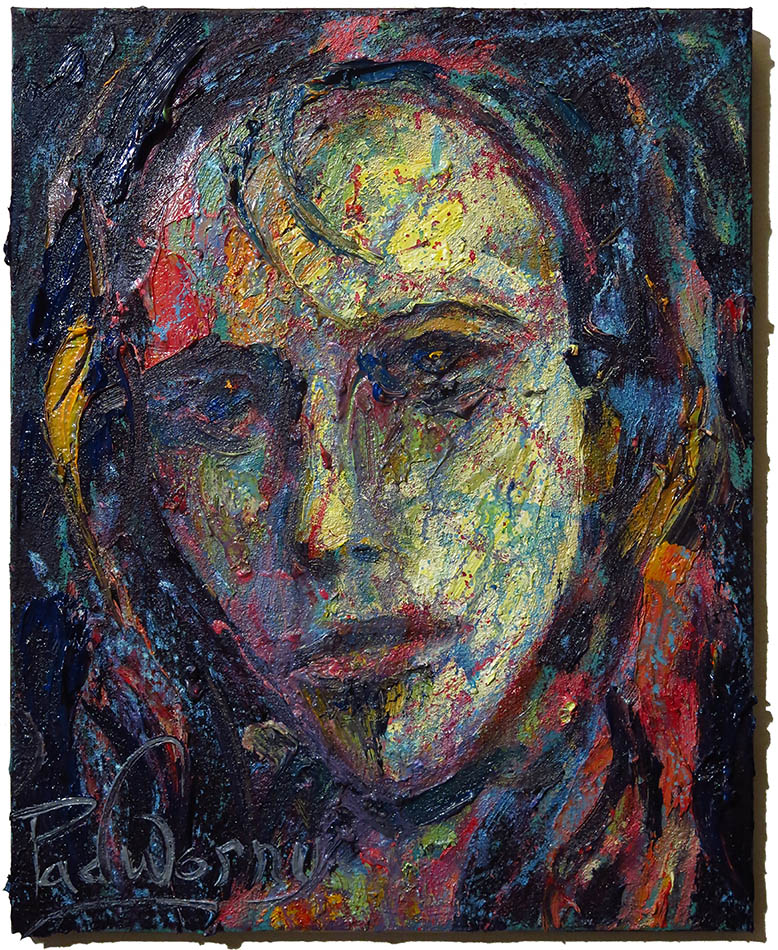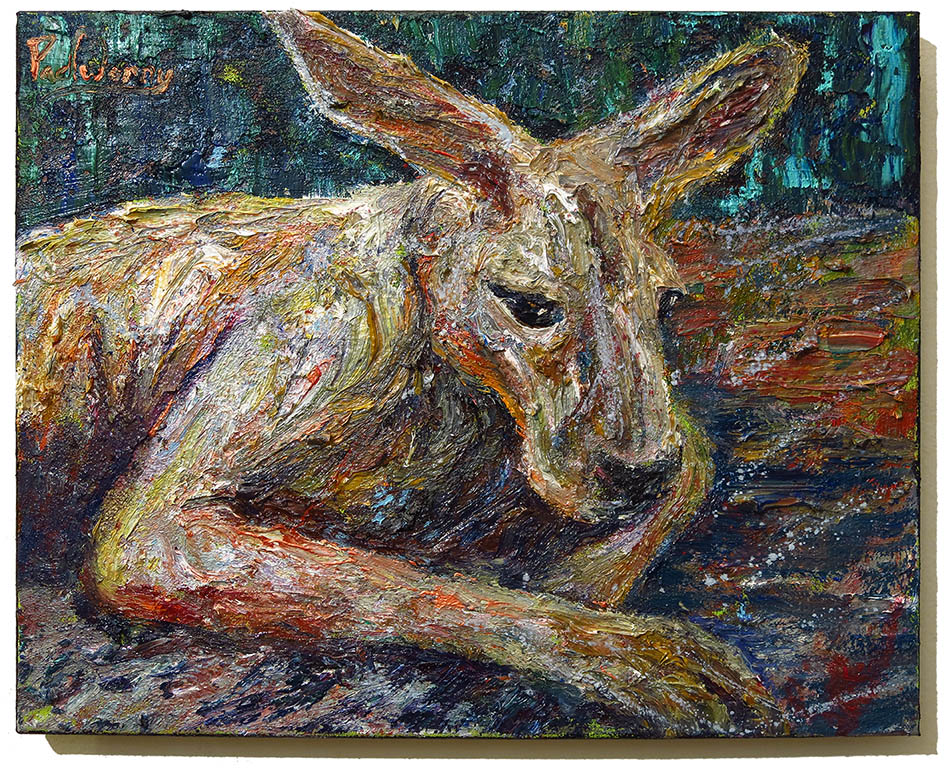 A notable audience favorite that night, and in the time of corona, was his 1984 piece entitled "Escape". Equipped with the word 'escape' written backwards atop a dystopian cityscape, allusions to Orwellian thought police, pandemic, and authoritarian rule preside. Writing backwards was a habit the artist drew from grade school to hide his journals from his siblings – even had a typewriter set up to type backwards then. Baltimore educated, Dave confirms that his BFA in painting has positively propelled his career,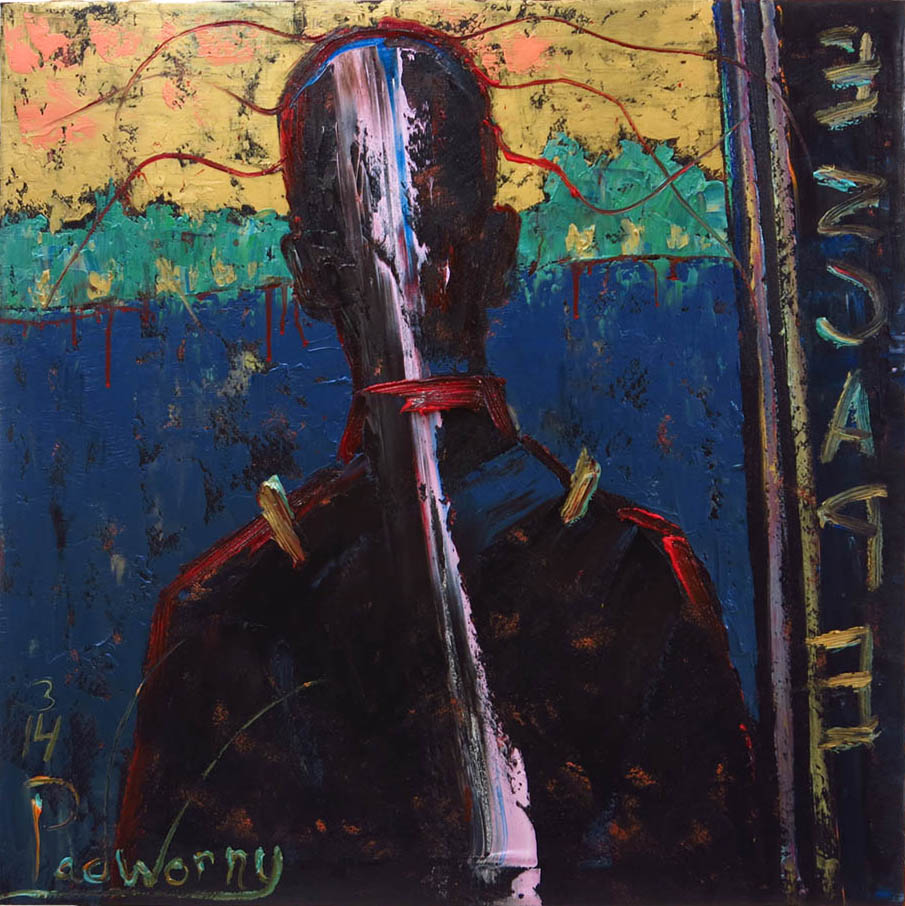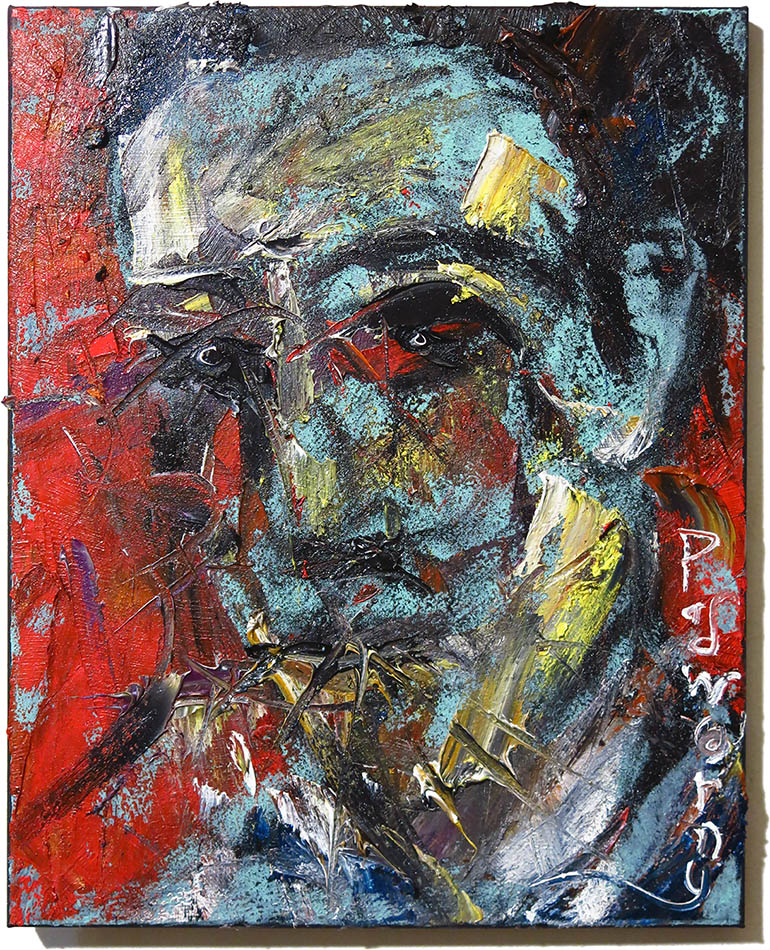 Fractyllizing viewers even further was a performance by 'misfit mime' Aneya Marie —musician, singer, stilt walker, character and former House Of Yes performer. Enacting a mime- alter ego skit, equipped with keyboard, circus balloon act, dance and color, viewers reveled in spirited, dazzling sprite both before and after the artist tour.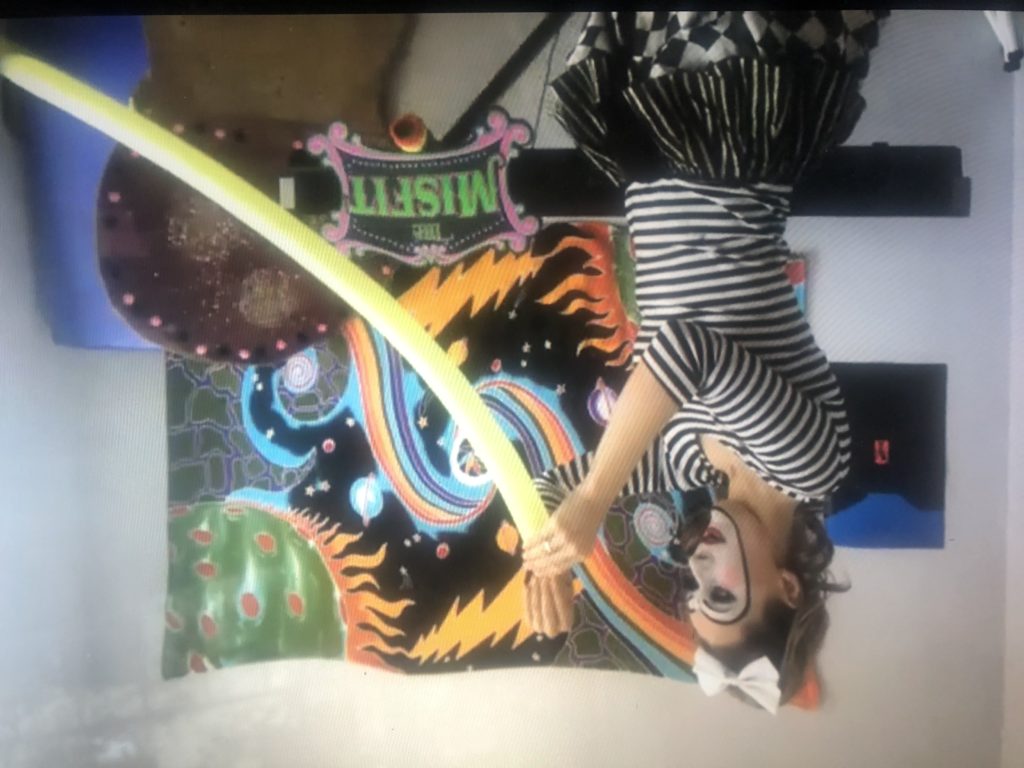 Interlacing it all that eve, was the Chosen Family Law Fund  for whom 20% of proceeds do benefit. It is a nonprofit organization providing legal and professional support and training for LGBTQIA, polyamorous, and other underserved families. Their goal is to bestow dignity, notes Anthony:
"What we mean is who makes us feel less alone when they hear your voice. Whatever shape your family is—we try to make sure you get the protection and support you need. Protracted disasters compound existing problems, so families we work with are having more complications now."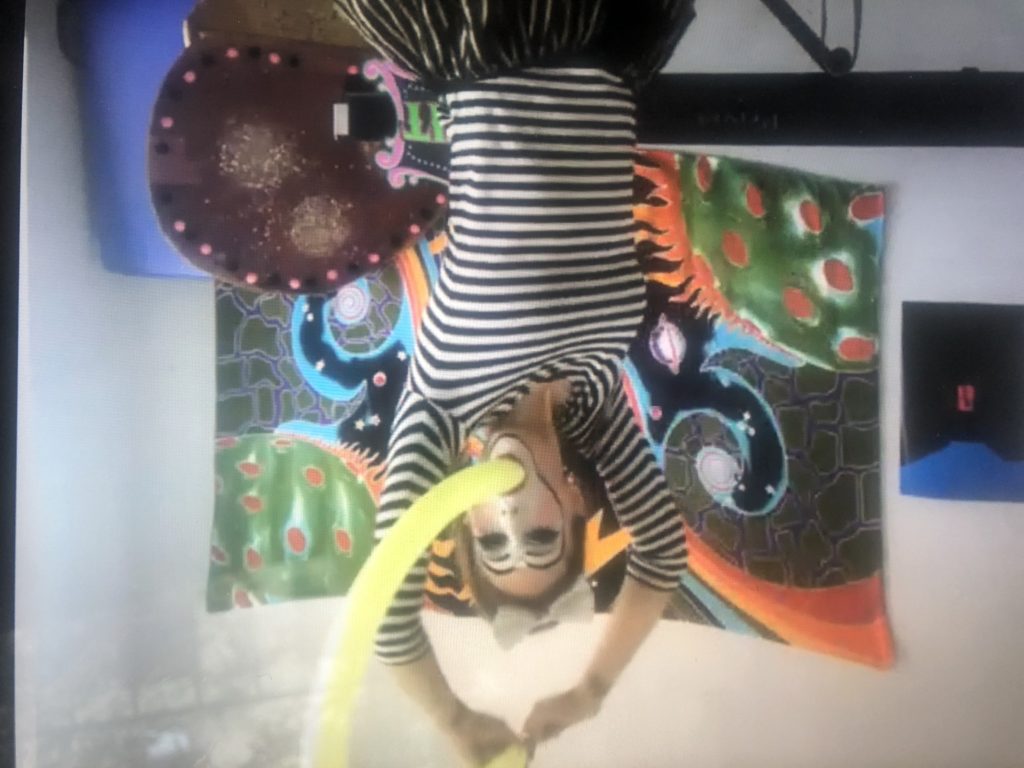 After all, "different intersections of marginalization create different impacts of these disasters," articulates the impassioned founder. Artistic renderings and fractyllized memory may be all we have to hold onto in the end. It's time we donate our time, money and attentions to arenas challenging the world to be better. We must aim higher, breathe deeper, and focalize family, peace and belonging—more now than ever.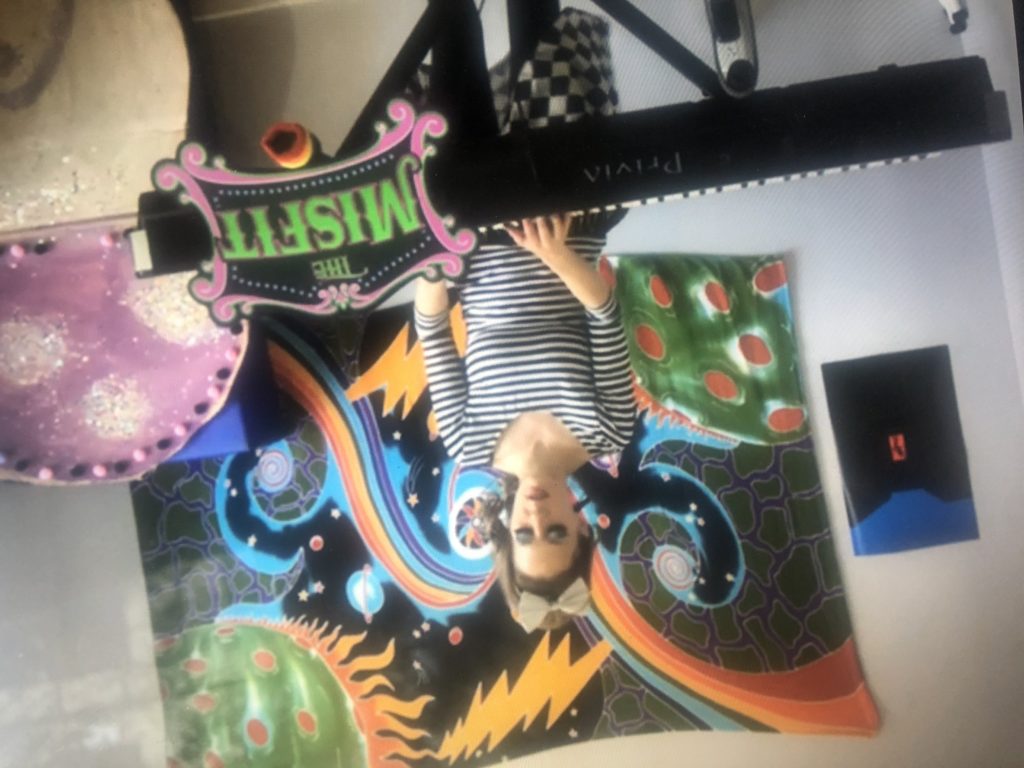 For more information & to purchase, see:
https://www.thezeroexperiment.com/