Shelley Hu: Augmented reality (AR) and virtual reality (VR) have come a long way. No longer is the field limited to gimmicky turn-of-the-century experiences like those theme park movie theater shorts with shaky seats and mist machines or the more recent, clunky, forgettable Google Glass; today, even average consumers can purchase state-of-the-art VR headsets for home entertainment. Doctors use the technology to plan and practice complicated medical procedures. In 2020, fashion house Balenciaga adapted to the pandemic by sending Oculus headsets to a few dozen members of the press for a videogame runway show. Slowly but surely, AR/VR tech is becoming cool.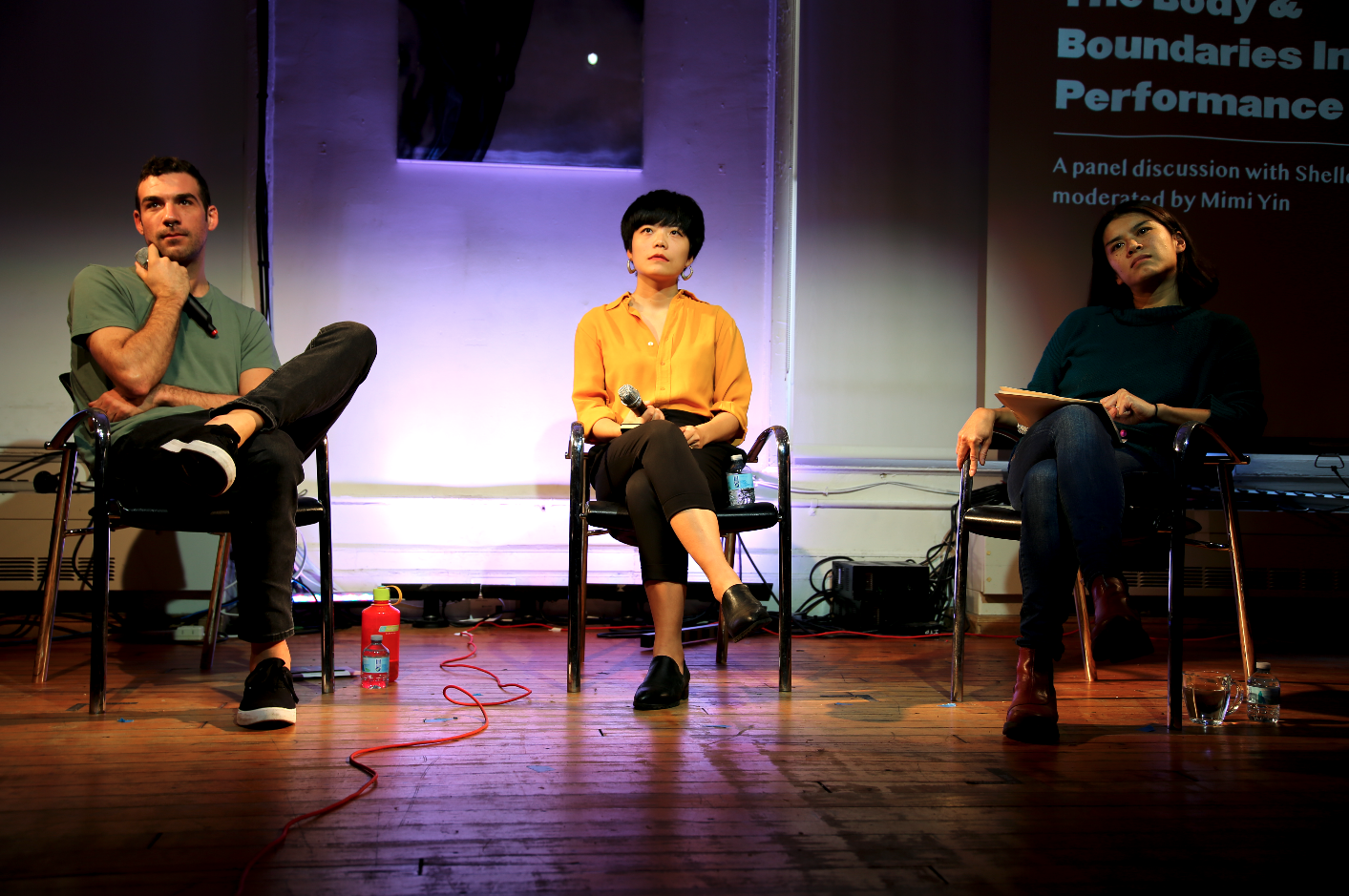 A new crop of artists and technologists has risen to meet the challenges posed by these new tools. Any new technology is ultimately only as valuable as it is useful, and it's up to early adopters to make it so. Among the rising talent working in the VR/AR space is Shelley Hu, a multi-hyphenate from Chengdu, China, living and working in Brooklyn, New York.
With an M.P.S. from the Interactive Telecommunications Program at NYU's storied Tisch School of the Arts, and a B.A. in Studio Art and Media Studies from Michigan's Kalamazoo College, Hu approaches her work with an artists' eye and a technologists' precision in equal measure. In both her professional and personal work, Hu tends to address issues of environmentalism, education, and the mind-body connection.
Hu harnessed VR tech for a solo performance piece called The Act of Receiving I / On Sight (2017). This deceptively simple piece is a spiritual descendant of Marina Abramović's seminal work Rhythm 0 (1974), wherein the artist stood still for six hours in front of a table set with objects including perfume, honey, scissors, a rose, and a loaded gun. For the duration of the piece, the audience was invited to do to Abramović anything they wished, using the objects on the table. Hu's piece carries the tension of that concept as well as the horror of the famous A Clockwork Orange scene wherein the film's protagonist's eyes are clamped open and he's forced to watch a series of violent films.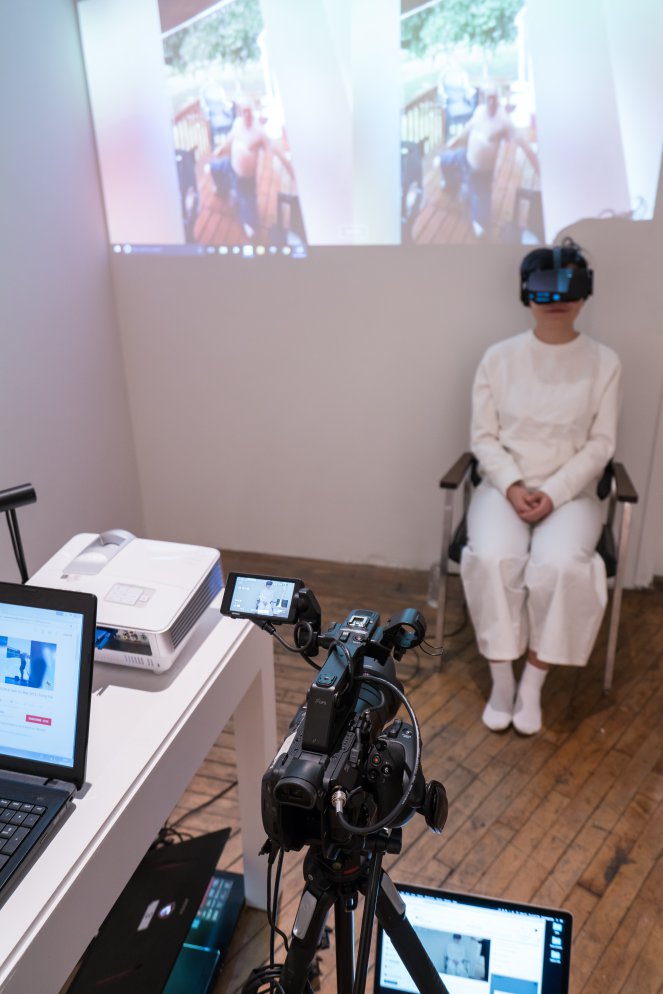 On Sight is a perfectly executed modernization of Abramović's classic; Hu sat for 2 (4 at a separate showing) hours with a VR headset clamped to her head, letting the audience choose what she saw. Gallery-goers, as well as anonymous internet users, were able to input either a video of their choosing or live webcam feed of their face into the headset, as well as into a projector set up behind the artist. Says Hu, "In our relationship with information, we experience the sense of vulnerability, powerlessness, embodiment or the lack thereof. I attempt[ed] to magnify these feelings by deliberately re-creating [that sense of powerlessness]."
Hu's piece may lack the possibility of death present in Abramović's piece, but it's not missed. Since the days of misnamed LimeWire files and the "Rick Roll," the internet has been plagued by the unwanted and unexpected. Nowadays, you're more likely to scroll past a pesky Instagram ad hawking some skincare product you googled moments before than accidentally click a link to some intense beheading video, but…you never know.
Had Hu limited input capabilities to an immediate, physical audience, the piece would've been too timid. Her choice to open access to anyone with an internet connection elevated it, equivalent to Abramović placing a loaded gun on the table. Anonymity fuels the darkest corners of the web.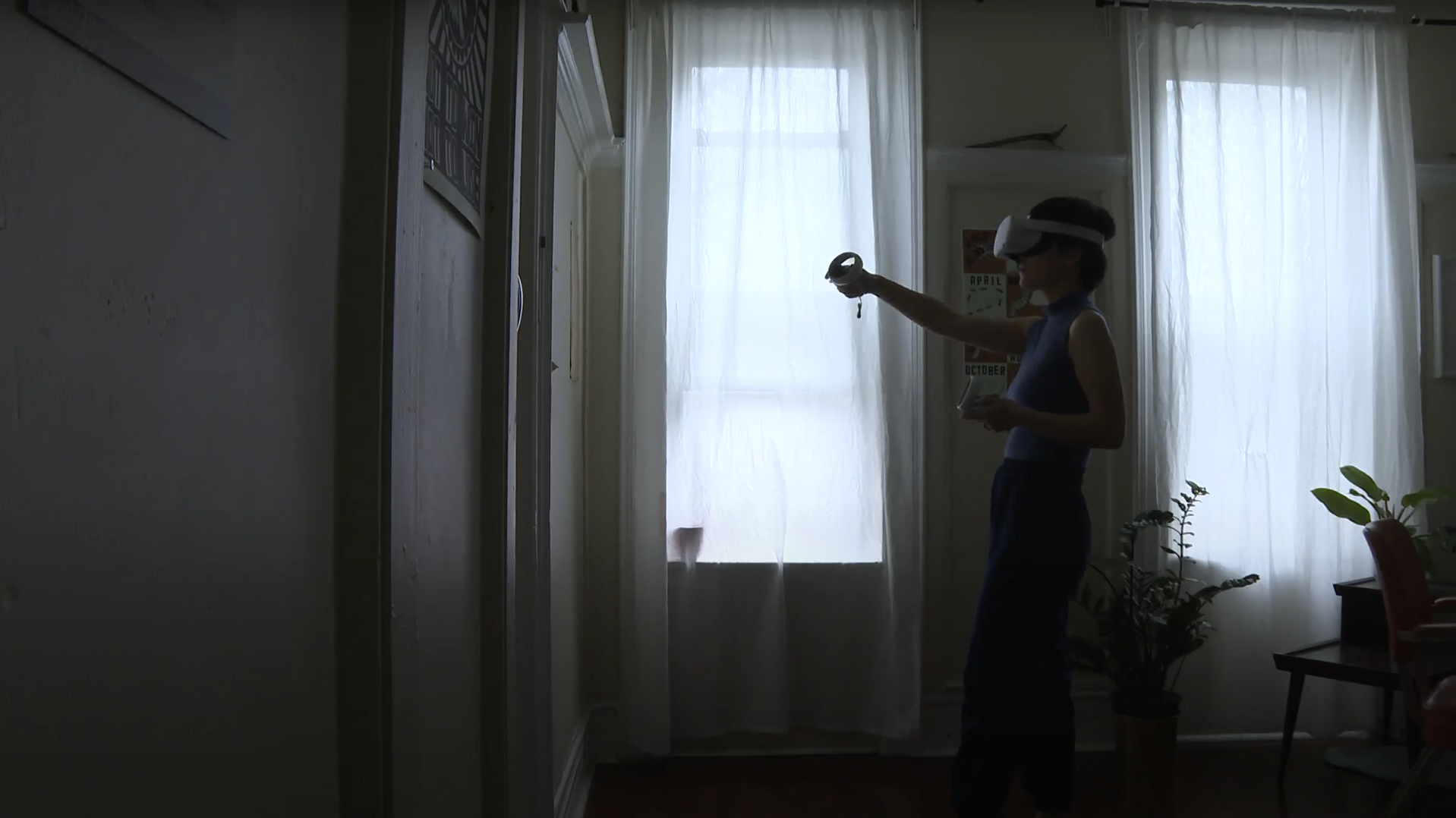 In 2017, the same year as 'On Sight', Hu was part of a group that received a New York Emmy, among five other elite awards and nominations, for a multimedia project called 'Finding Sanctuary'. The project was born in the aftermath of America's 2016 presidential election, which marked a rise in xenophobia and a national atmosphere of unease, and named for New York City's designation as a "sanctuary city." The group documented the journeys of six sanctuary seekers and addressed the country's long history of intolerance; Hu contributed data visualization work, including an interactive map that allowed viewers to track the population movements forced by the Japanese internment camps the country set up during World War II, a technique that was in its infancy at the time.
More recently, Hu held the position of creative technologist and managed the studio for New York VR production group New Reality Co. While juggling the multitude of duties inherent to that position, she handled post-production for the company's two award-winning VR/AR installations, Tree and Giant.
Hu spearheaded Tree's installation and presentation at events and venues across the globe. Her most fascinating contribution to the project was a collaboration with olfactory scientists in the United Kingdom—she designed and implemented a fully automated and never-before-seen scent delivery system, which truly tied the project together and won finalist positions for the 2020 Art and Olfaction Awards and PGA Innovation Award. Tree is a multi-sensory experience wherein the viewer dons a VR headset and is transformed into one tree in the middle of a rainforest, whose growth from seed to towering lifeform they experience. Tree represents the realized promise of those tired old theme park 4D film experiences.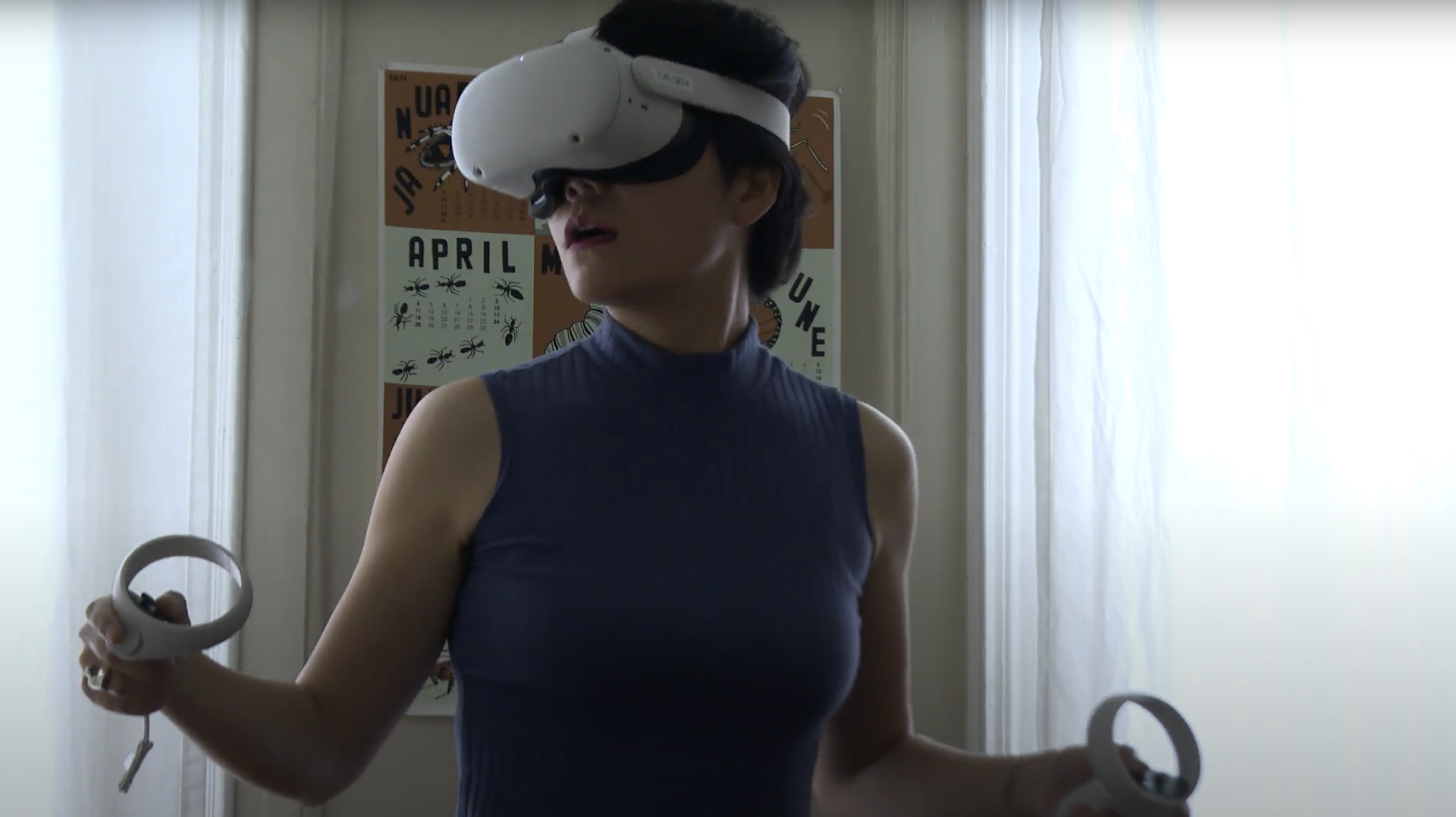 We contacted Hu to discuss her previous work and the future of VR/AR, as she sees it. The below interview has been edited for length and clarity.
[Publication]: What draws you to the field of VR/AR? Why (or how) did you first start using this technology?
Shelley Hu: I had a lot of bias against immersive technology before I started experimenting with it. Once I experimented, I realized that instead of another tech fad or selling point, it was indeed an immersive blank canvas for all kinds of creative expressions, particularly those considered impossible for "this reality". The moment I put on a headset and dropped into the world I had just created, everything changed and the possibilities were endless. I have had a lot of success integrating this technology in immersive art exhibits as it elevates the viewers experience in ways that are not otherwise possible.
[P]: You seem to have a repeated interest in using VR/AR to explore issues related to the environment—can you expand on that?
SH: I am a firm believer that nature has the solutions to all our questions; all we are trying to do is imitation. Traveling the world with the project Tree VR, I've witnessed countless pleasant gasps from individuals around the world at the very moment they realize they are the tree: their body as the trunk and their own arms as the growing branches. Such "imitation" to nature has only been made possible by immersive technology.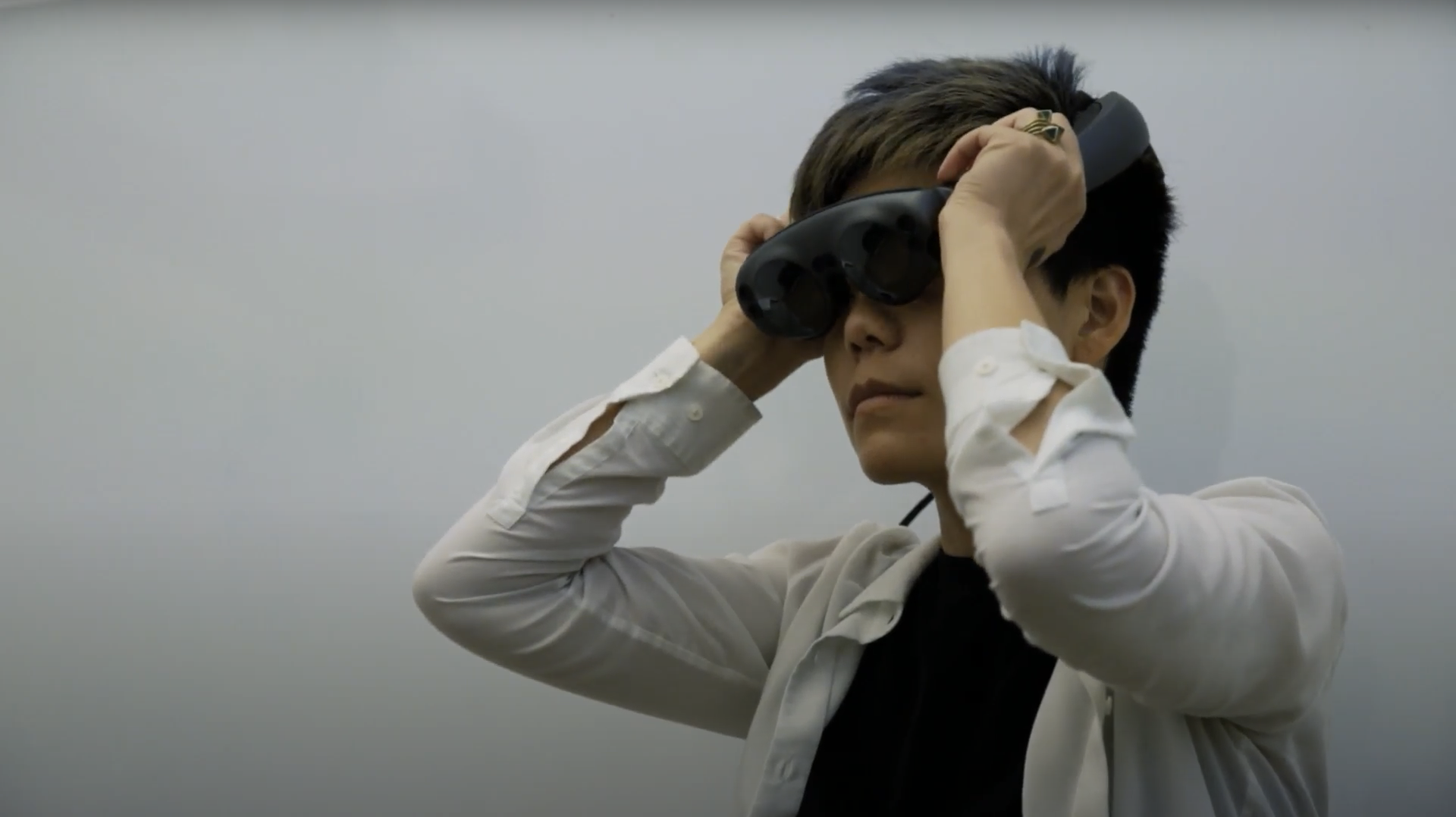 [P]: What do you envision as the future of VR/AR?
SH: I am optimistic about the future expansion of AR and VR. Extended Reality (XR) creators in the past have been largely restricted by the price of the hardware and the steep learning curves of the software tools. However, we are currently witnessing increasingly more affordable XR headsets, as well as the trend of more XR creator tools becoming open source. Tilt Brush, for example, the VR software that allows room-scale 3D painting, has recently open-sourced their code. Immediately, a multiplayer version of the tool MultiBrush was created and made available on Oculus Quest, a mobile and relatively affordable headset.
Other exciting business applications are emerging as well. For example, at TRANSFR, where I'm currently employed, we are developing immersive job training programs using VR technology, providing a superior learning experience compared to traditional training methods that primarily rely on observation.