Nature-jeweler and artist Kira Koktysh created a new series of hand-sculptured pendants, or talismans, for Katya Leonovich's S/S 2020 Menswear collection this New York Fashion Week. Fix and Fax marks Katya's shift to menswear from couture womenswear. Kira too, had limited experience creating fashion for men; having merely created pearl cuff links, she was pleased and surprised when Katya called summertime, inviting her to design some pieces.
"Get out from your comfort zone and try something different!"
Kira delightfully recalls Katya L's insistence.
And so she did: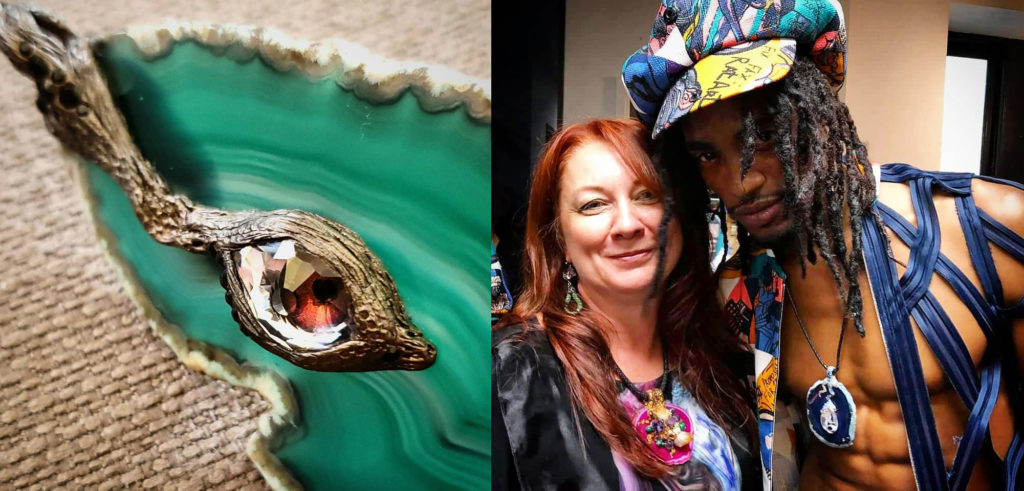 Agate pendants with stingray leather and Swarovski crystals seamlessly merged into bold and provocative fashion UNISEX statements presented at the runway. Characteristically Kira K in that each stone melts brilliantly into its encrustations, her designs endlessly epitomize nature's fractals. She employs the evil eye, or "Mirror of the Soul" motif to merely accentuate each artifice. Alongside the Swarovski's Eye Fancy Stone, an ancient, multi-layered good luck charm, whose dimension takes root in a non-fading digital print technique, fractylls abound. Nature, Art, and Fashion articulate a cultural truth—a visualscape that strengthens and imbues time with energy.
"The eyes are the mirror of the soul and reflect everything that seems to be hidden; and like a mirror, they will also reflect the person looking into them." – Paulo Coelho, Manuscript Found in Accra.
Complementing Katya's print-based streetwear collection, whose marbled chiffon, hand-painted jeans and knit-ware are reminiscent of Jean Michel Basquiat's chaotic brilliance on canvas, Kira employs the brightest, boldest hues. Robust and vigorous gemstone neckpieces harmonize the metallic and vinyl, as do her generous employment of radiolarian crystal.  Single-celled organisms with 'opalescent exoskeletons', their frosted, sparkly facets add strength and chivalry to any urban ensemble. A delight to enunciate, 'radiolarian' semantically evokes various musical genres as much it emblematizes masculine depth, angles and nature.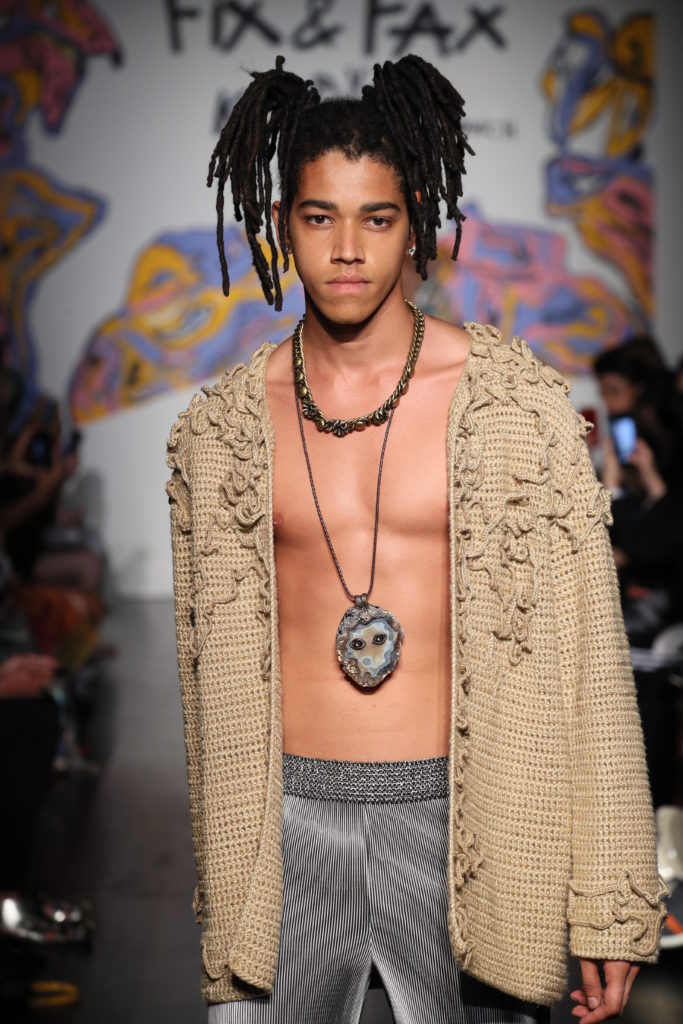 Scary and screaming, yet tender and real, Kira's creations emphasize the cunning, courageous male. Brutal in glare at times, and controversially beautiful, her designs juxtaposed to Katya's looks ubiquitously sustain a unisexual appeal. Albeit clothing and art that invoke pop art, graffiti, murals, or sculptures from Burning Man—"Screaming Radiolarian in Anticipation of the Evolution" is the first collection in the new Kira Koktysh Art Jewelry series "Presentiment of Homo Sapiens." It is dedicated to the development of the animal world (Fauna). The logical continuation of Kira's previous series "Botanical Metamorphoses," it is devoted to Flora.
Website to Kira Koktysh's work: http://www.kirakoktysh.com/