It's NYFW, the Big Apple's honorary holiday where thousands of people celebrate

iconic fashions and yes! It's the most wonderful time of the year.
Last Thursday, I attended the OqLiq show at Spring Studios for FW20. As the lights dimmed, and whimsical Taiwanese music rocked the room, the models, one by one, strut the runway sporting contradictions. The first look, an oversized wool but tailored navy coat with gray nylon pants, the ends rolled up which exposed charcoal socks with their customize shoes. The last outfit was an apocalyptic look. An ankle-length black trench, detailed with two large puffy front pockets–perfect for storing your hands was finished with black slacks and sneakers.
During the final walk, my eyes were mesmerized by the enigmas of each outfit. There was an artistic bewilderment that happened in those 10 minutes—but, in the best way.
OqLiq is comprised of two designers, Orbit Lin and Chi Houng, an unlikely duo who teamed up in Tainan, Taiwan to create garments based on their shared passion in Ura-Harajuku culture, the vintage aesthetic and the skateboarding scene. Lin's technical background as an internet engineer and Houng's fine arts background have introduced a clothing line which is both artsy and tech, innovative but simplistic, unorthodox yet functional. They exhibit a futuristic lens into the culture of fashion for which neither incredibly went to college!
With regards to their clothes, no unique detail lacks intention. With respect to textile, OqLiq recycles materials and fabrics—such as: polyester textured yarn or leather made by dam sediment, including even oyster shell powder for temperature adjustment, deodorant, anti-bacterial, and anti-UV.
Why do Lin and Houng repurpose fabric? "To keep dismantling cultural symbols from where [we're] from and giving new meaning to [our] collection," they said in an interview NYFW.com.
Food blogger Talicia J, and medical graduate from New York University, found herself in awe after viewing the OqLiq show. "Tech to me is to the point–no fuss," she states, appreciating the technical elements to the pieces:
"However, I saw the art. A lot of the pieces had an artsy flare, but they still kept the architecture. Their lines are clean."
OqLiq not only featured their line of innovative menswear at NYFW, but traced a personal trajectory of thoughts and evocation. They prove that fashion is more than art—it's personal.
Fashion review: by Brittany Talissa King @b.talissa
Photos: by Brittany Talissa King and IMAX TREE Images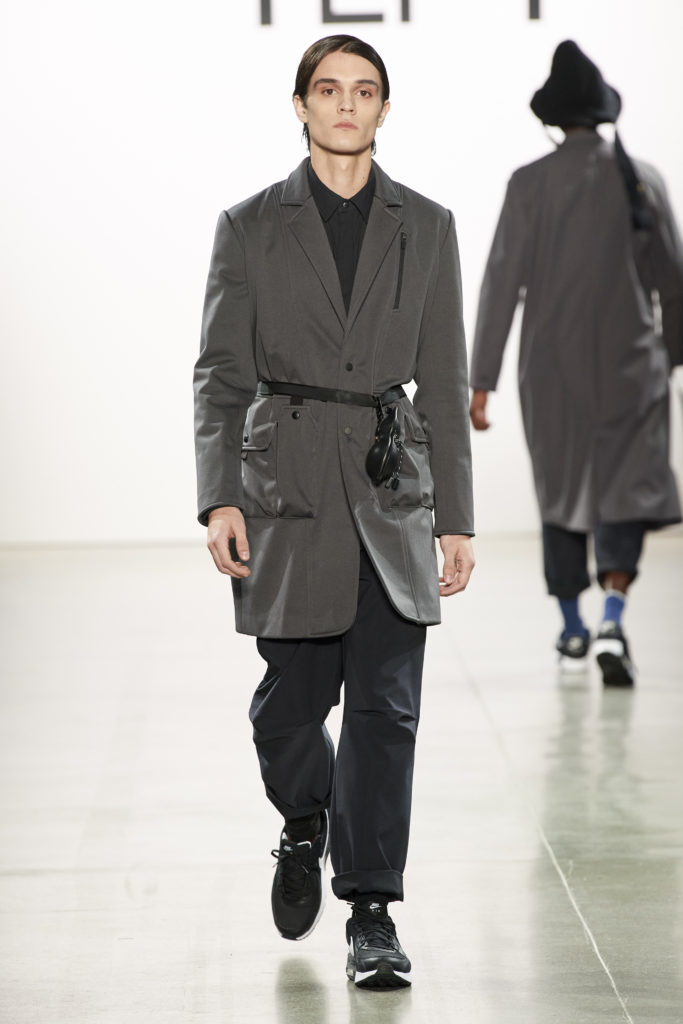 .