I return often to AFA Gallery, a landmark in SoHo's historic cast iron district. SoHo has more cast-iron buildings than any other global district, and AFA occupies one of them. The way light bounces off one creature on a busy, sunny Saturday changes so wildly on a slow, rainy Monday. It only makes sense then that the landmark establishment continues to channel fantasy and emotional complexity through the new "Cosmogonies" exhibit. Featuring new works that honor cosmogony, or the study of the origin of the universe, the flesh and bone of AFA never cease to exalt the spirit, mind's eye and heart into blasting color, shapes and shimmer.
Take Anne Bachelier for example. Her intricate, feathery dreamscapes sprawl across canvases along the back walls, as though to massage out the tension starkly imbued by Pierre Matter's heavy scrap metal hybrid sculptures and Jean Pierre Arboleda's morphed animals. Bachelier's glittery nymphs, queens, fairies in Alexander McQueen-like garb raise viewer's spirits, upon confronting Arboleda's work, which addresses a world deranged by a toxic environment; Anne's focus is mythology, where evil truths and beauty abound. The creatures who inhabit her mind float, dance and spiral up into vaporous mists, softening the menace bestowed by Pierre's alligator fangs, rhino horns, and whale carcasses. Ascending from the horizon, Anne's fantasy portraits, drawn purely from imagination, inject Jean Pierre's animated portrayal of endangered species with an unforeseen femininity. A harmonious tripartite among the three contemporary surrealist masters is inevitable.
"We are just too stupid not to destroy the planet. Fallout changes genes. Chemical mutagens changes genes. Something that has taken millions and millions of years to make forms that work—we can just destroy—or turn into monstrosities—in a twinkling" (A.S. Byatt)*.
Pierre Matter creates such 'monstrosities', or futuristic possibilities of organic merged with machine, through a glorious collaboration of bronze, scrap metal and recycled objects. Matter's universe is not so magical; in fact, it is as real, hard and heavy. Erecting machine-laden animals, endangered species in particular, Pierre Matter's three-dimensional sculptures create a visual reflection of the world we live in, and the creatures we have become who are so dependent on technology.
Heavy animal carcasses, with intestines, necks or limbs that bear the nonsensical deadness of a machine are morphed into futuristic creatures. They have merged their lives with the now living machines; they are biomechanics. Pierre excavates various animals' flesh and bone to expose a disturbing reality of pipes. Also collars, cylinders, ratchets, rollers, sockets, sleeves, spindles, shafts and more. Tubes, cogs and wheels replace a life-size whale's mid-torso in a monumental 15 foot "Mecawhale", while a Panther and rhino's legs and rear in "The Watch" and "Rhigre and Baby" are bionic.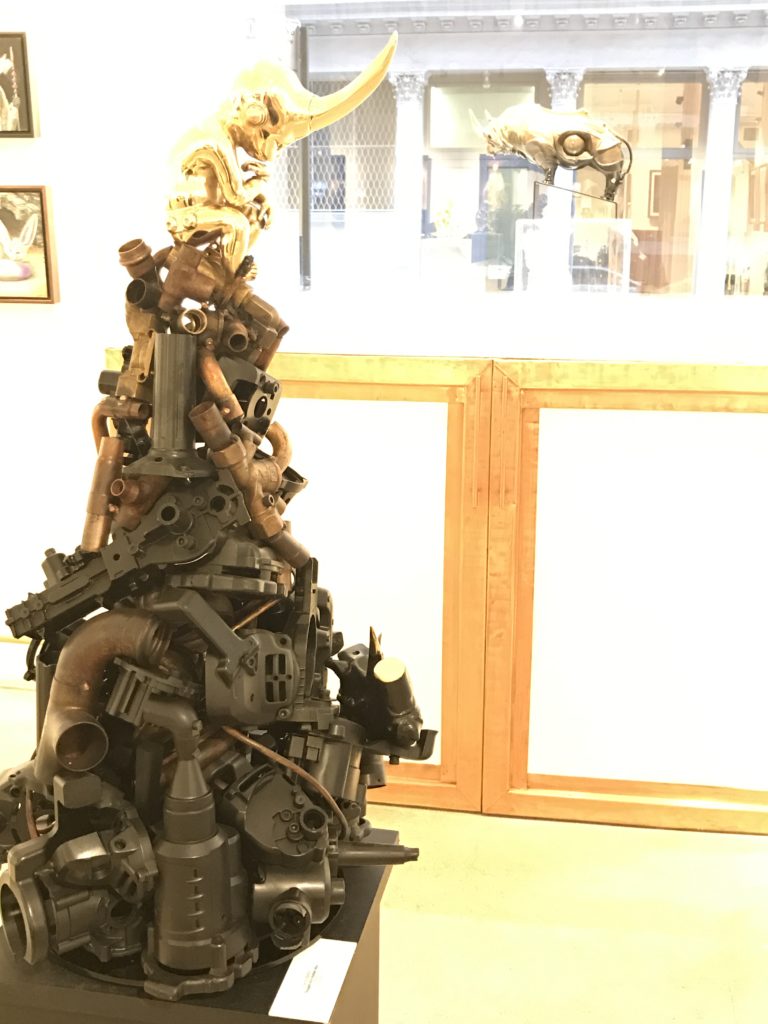 Accentuating the 'hybrid' nature of his work, Pierre work speaks of the impact of science on the hybridization of living creatures and machines. "Mecawhale" is often dubbed a 'steampunk spacecraft'. In fact, his repurposing of recycled objects has deemed him the father of the steam punk movement for decades.  Matter's only use of color is the pink for the recurring nude male infant; equipped with golden rhino horn, artillery or devil ears, the anime—alongside with his other sculptures– assumes a warrior-like stance over stone cold and sharp machinated platforms to convey that man with all of his big weapons is like a baby. Using grinders, welders, plasma and laser slicers to mix together bronze, copper, brass and stainless steel, Matter's dystopian warning becomes clear: Animals, people and machines are one. We eat what we reap, as technology crazed mutants.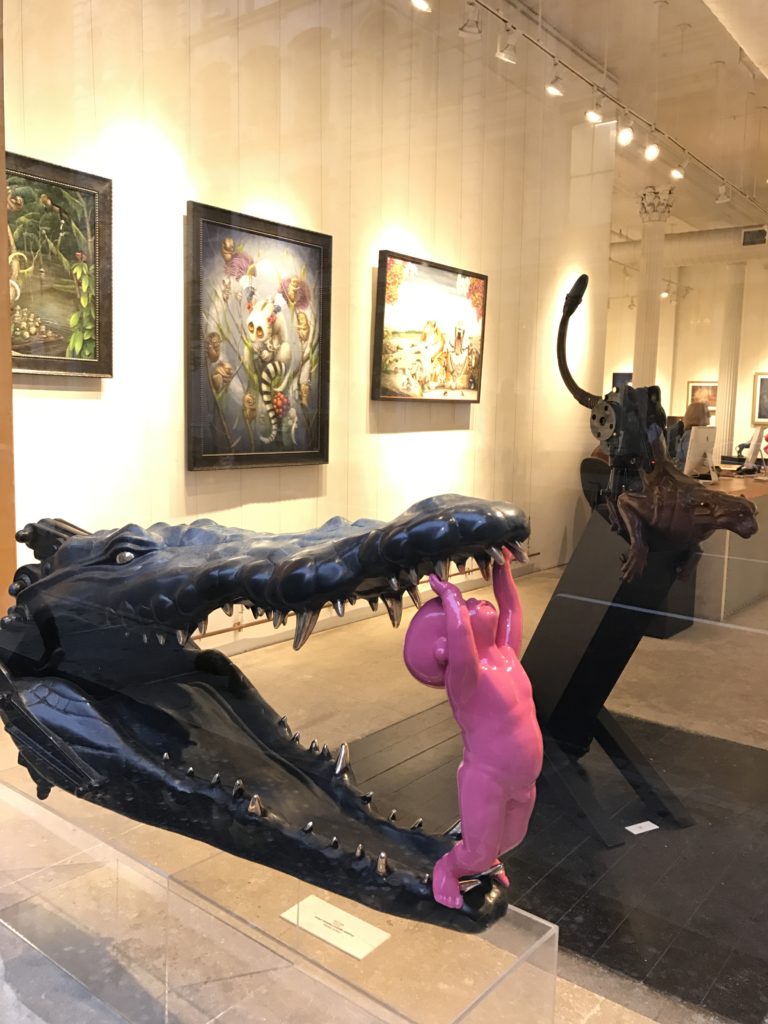 Jean Pierre Arboleda deftly transmutes Matter's stark diatribe into a solution: Return to and appreciate nature! Look in this tiger's eyes, and tell me you prefer smelling his perfume to seeing him exhumed. The Ecuadorian naturalist's upbringing and extensive travels through rainforests, lakes. The wilderness incited in him a deep concern for evolutional change, deforestation, poaching and war. "The Gatekeepers," for example, exhibits his concern for the endangered slow Loris. The only venomous primate known to man, this nocturnal lemur-like creature inspired the cuddly Furby toy. Often the target of poachers and pet keepers, who rip out their lethal teeth. They subject them to cruel captivity, the Loris is becoming extinct like black rhinos and Bengal tigers.
Like Matter, Jean-Pierre's protagonists are strong and determined, but his work nevertheless supplies more of an appeal to the innocence. Likewise, tenderness and tactility of creatures, struggling with pervasive destruction and chaos.  The weapons of destruction have become neutralized in a new world. In this world the animals simply perceive them as curiosities and toys. Tigers nuzzle bombs unknowingly, while fruit and orchids bloom.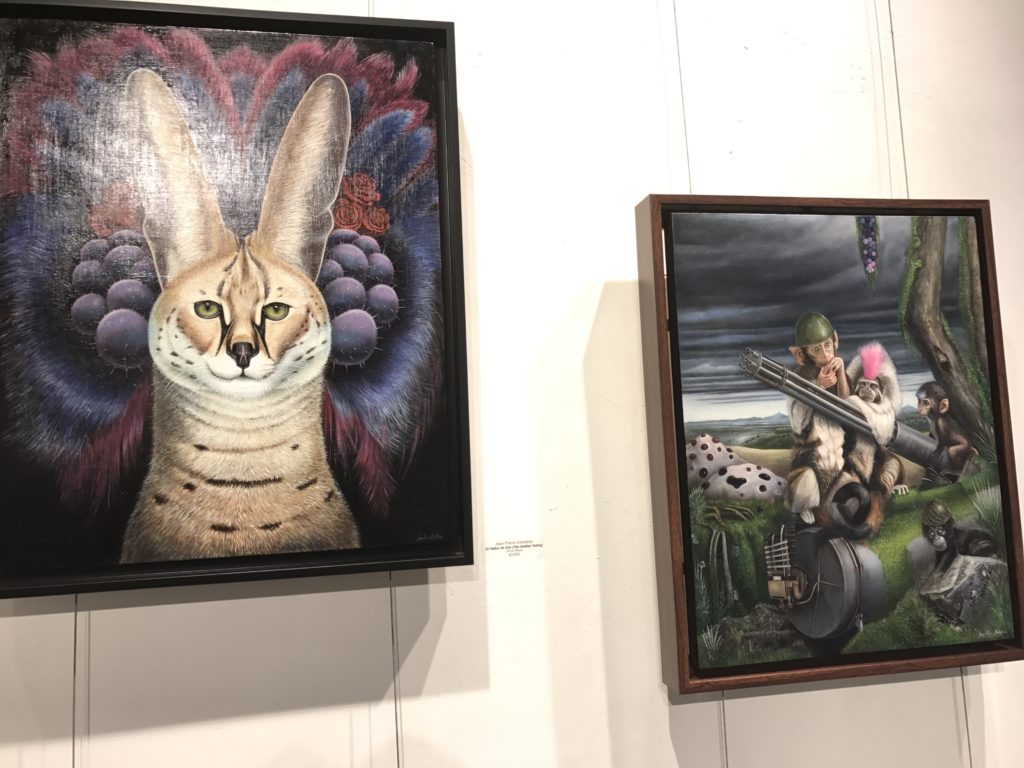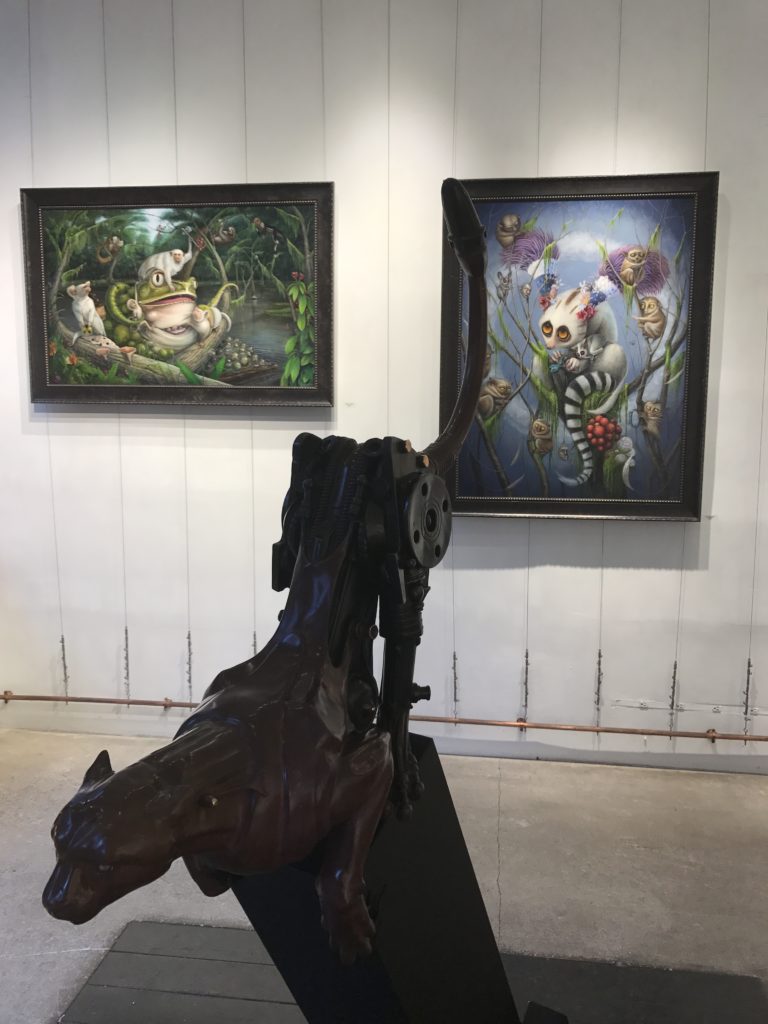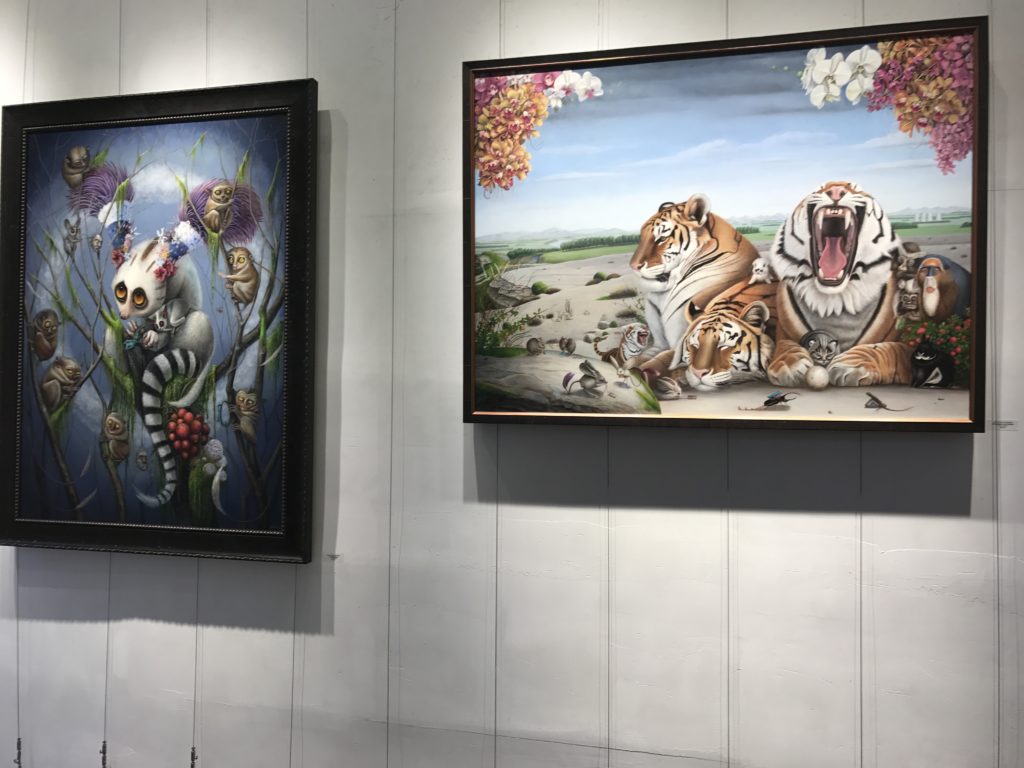 Jean-Pierre says of the Loris: "Gatekeepers came from a story relayed by the native people on the island of Borneo. They believed that slow lorises were the gatekeepers of the heavens and that each person had a personal slow loris waiting for them in the afterlife… To me, this painting is a representation of the slow lorises, tarsiers and galagos taking their environment back and assuming control of what belongs to them." Like Matter's ripped infant logo, the recurring use of the tree frog and shrunken heads in his paintings resiliently represent a "… taking their control back from humans. Symbolically, it is believed by Amazonian tribes that shrinking the heads of an enemy harnesses the spirit of the enemy". The animals remember no chaos because it's all gone. It's a brand-new day, people are gone, and animals are able to take the environment back.
Anne Bachelier's portrayals of women dancing amid graceful fabrics expands on the vulnerability and life rooted in Matter and Alboreda's works. Her collections of works include oil paintings on canvas and mixed media on paper. She uses silver and gold leaf, oil pastels and paint, pen & ink and pencil in a very spontaneous process that reveals her technical virtuosity. Selected often as decorative pieces by interior designers. Bachelier's craft remains best unspoken, as her fans are often the ones to speak on her behalf. Her presence in the tripartite spectacle at AFA Gallery this month, ensnares the good, upturns the ugly. And also softens the music of trauma on earth through a love for astronomy:Le celestial.
Titles like "Curiosités", "Dans l'ombre du Dragon", "Trinite", "Magicienne Celeste" evoke a magical dreamscape known less by her counterparts. Channeling hope and light where chaos lingers, her honorable telepathy and passion for mythology supply promise in a fantasy world. Where mysteries quake, humans are fake, and no one looks up at the sky long enough.


AFA's triumvirate exhibit draws attention to our fragile relationship to nature and advancement. Cohabiting explanations for why we stand precariously atop machinated steppes and floating clouds alike, our hybridized natures need be addressed. By learning to put down our phones and dance again, we will live differently; machine parts may dissipate. Through recognition for environmental degradation, deforestation, and poaching. We must stop harming the very source that insisted we ever live in the first place.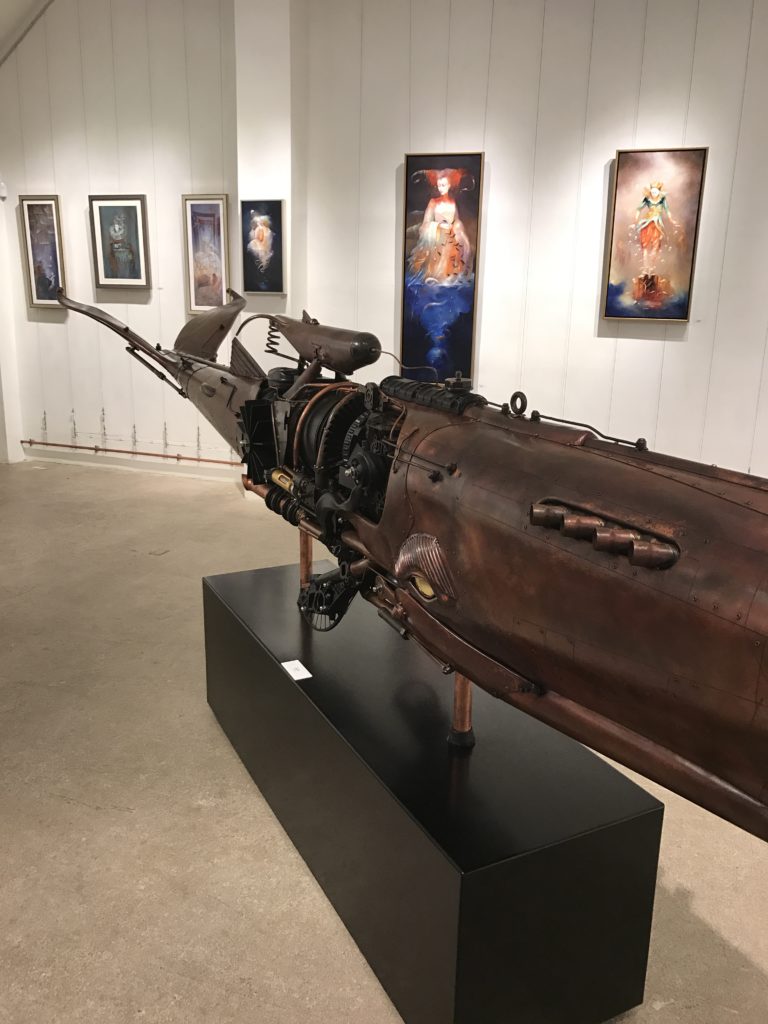 Ongoing view AFA NYC Gallery 
Gallery Hours: 
 Monday—Saturday 10AM-7PM, Sunday 11AM-6PM: 54 Greene St, New York, NY 10013