I learned a few things by attending the Collaborative Art Fair at 80 Wooster in SoHo last Thursday. First: I'm seemingly drawn to organic creations made of resin, and second: Resin evokes organic imagery for a reason. Drawn immediately to Maria M. Mohiuddun fractal-like evocations— flowers, concentric petals and shapes—made from what appeared to be waxed seashells and acrylic nails—I had the privilege of gaining a bit of insight.
Maria applies a couple of layers of shellac spray over resin (plus hardener), which you can buy for less at Lowes. This helps prevent the resin melting in sun or heat. The technique surprised her one day, while completing a piece using candle wax. Disappointed in her creation, she left it only to return to a satisfyingly hardened and textured.
Out sprouted organic replications of nature, flowers, seashells fractals—whose vivid colors and high spiritedness apparently contradict Maria's personality: "It's ironic because I'm a super serious person." Her more recent works do become more multi-dimensional, intricate and geometric.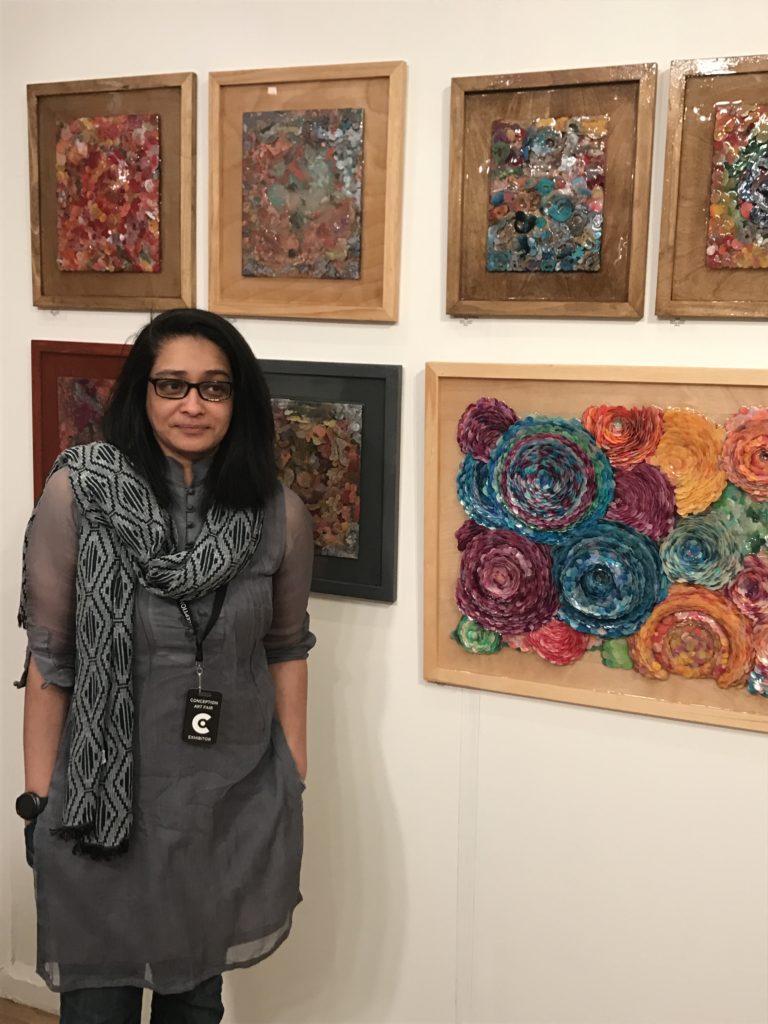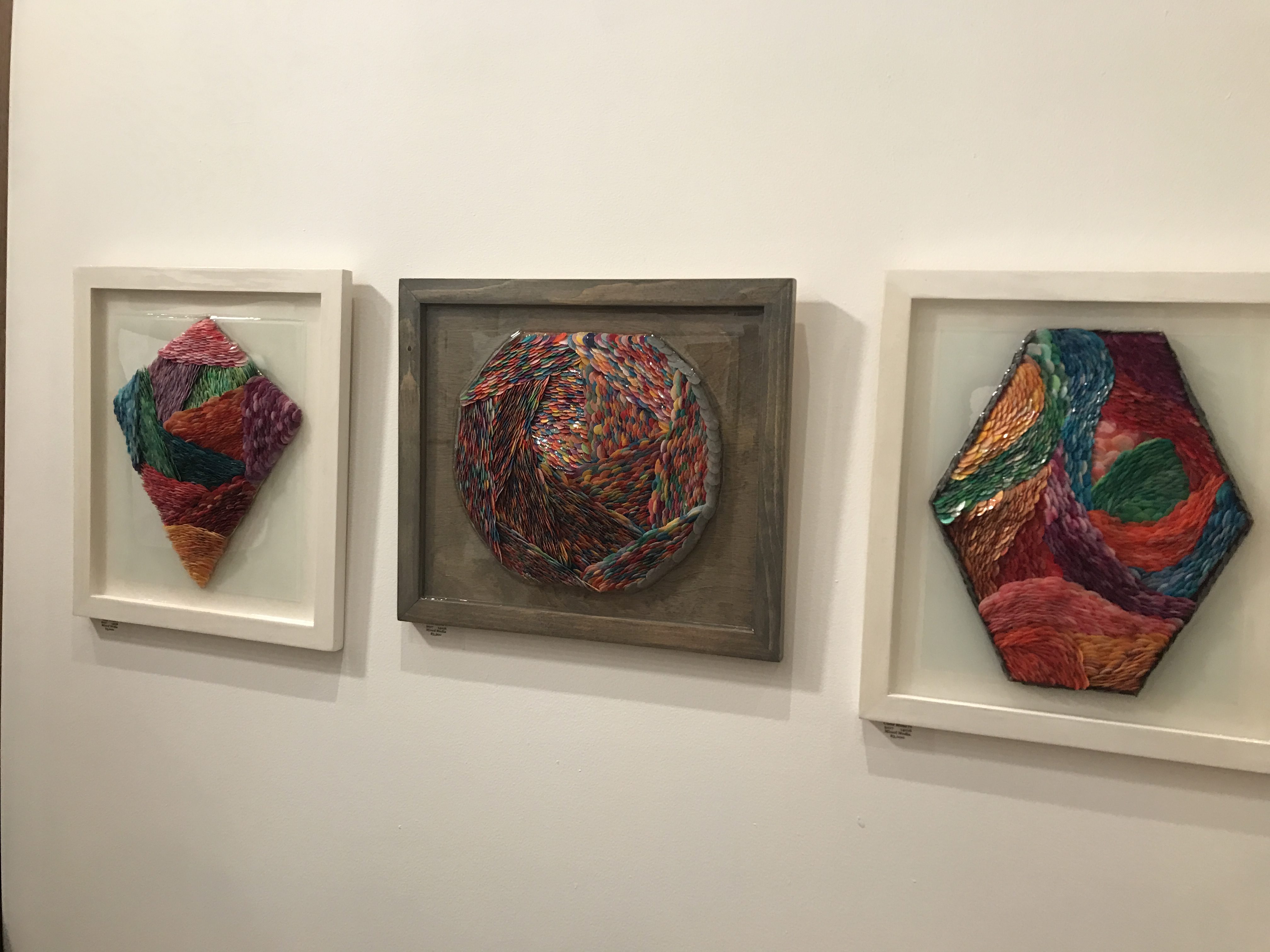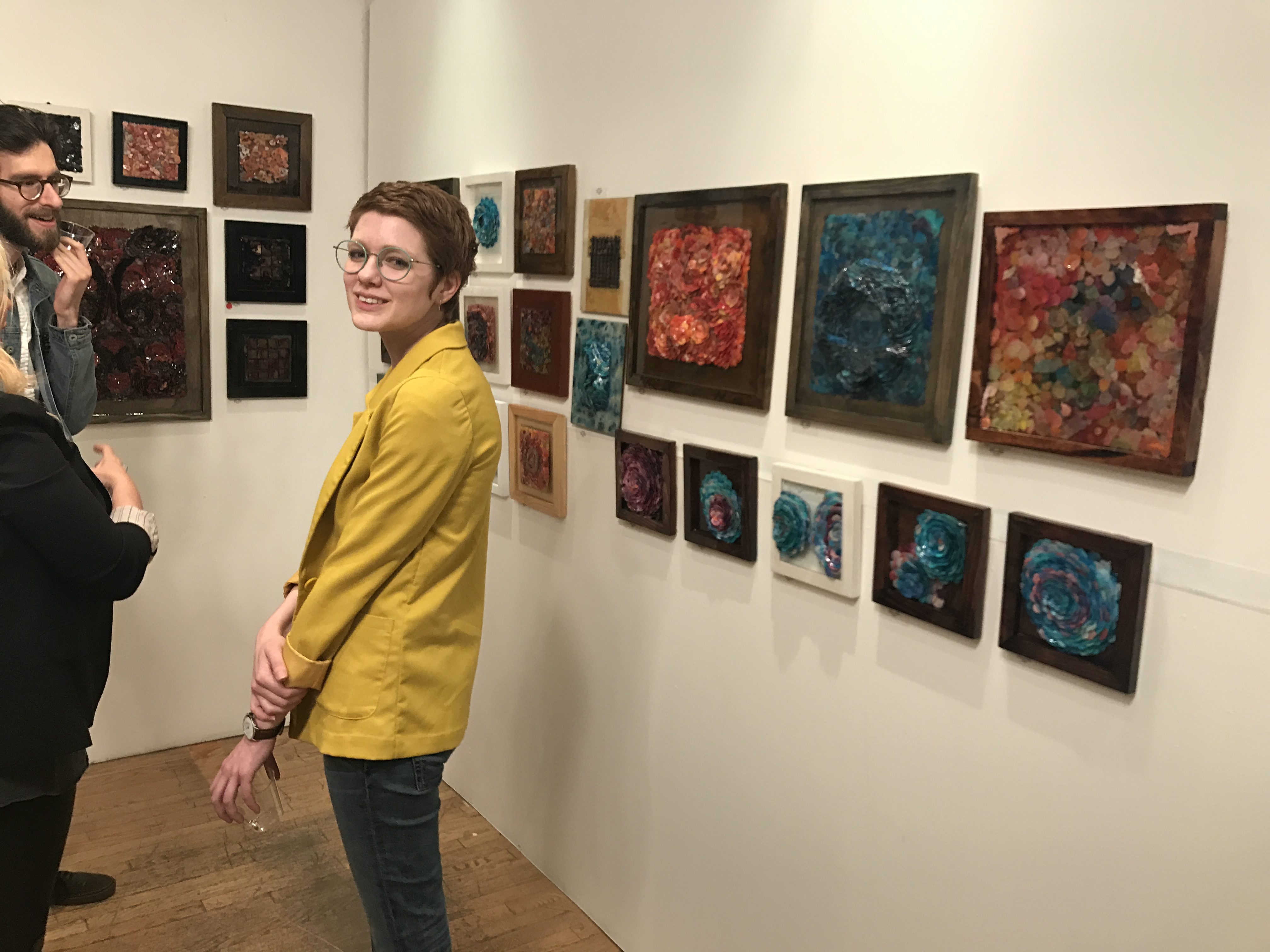 Then there's Erika Lyn Horwitz, whose oeuvres certainly launch viewers onto other continent's magical terrain. Mixing ink, oil, paint, glitter into her topographically reflective pieces, "I'll use PBO sometimes, silicon, automotive paint which is my favorite because it's really dense—and if you look at a car closely, it will have glitter."
When asked how she arrives at the images portrayed, she shares:
"What happens late at night is: I'll put my headphones in and listen to very loud music, usually in a foreign language so that I don't know what they're saying… it's very topographical, cellular, and geodes—and I think of science class. In a lot of cases, however, I'm a fluid artist."
Fluid art to Emily involves silicon oils and water and then taking a torch, while ideally wearing a respirator, to meld, mold and harden.
Here we have two lovely women being women—introducing the various gradations of light, color and texture. Transposing layers of more challenging materials, the spokes of the fractal come alive.