Pioneer Works, the thought-provoking art gallery in western Red Hook, Brooklyn debuted two exhibitions on February 22. One was interactive and intriguing but perhap too ambitious, and the other was an interesting hodge-podge.
My 16 year old daughter and I first checked out "En El Monte", created by three artists and involving a set of Virtual Reality headsets. This exhibit is on the second floor and when we entered we were a bit confused to see about twenty metal poles in a room. And just that. But shortly after we tiptoed in, a staff member brought in several VR headsets and hung them on many of the metal poles.
We had not read in advance about the exhibit, I admit, so that the various VR scenarios seemed to be a disjointed mix of strange, soothing and raunchy. The first headset was an underwater scene, and I enjoyed being immersed in the environment, watching sea creatures swim about, the water cool and blue, with the natural sounds of the water. Next I viewed a headset of a blazing fire, the bright colors, flames and crackling sounds more than a bit disconcerting.
Another headset showed a black background with a variety of swirling colors, which on more careful examination turned out to be various corporate logo and symbols (religious ones seemed prominent). I got a chuckle out of this. And yet another headset seemed to show a goofy setting of adults and children throwing around paint and pieces of plaster, while being watched and cheered on by a crowd watching from a balcony.
And then there was the headset showing a group of scantily clad women pole dancing.
Afterward I read the description and goals of the exhibit, which mentioned Havana, freedom, escape, isolation and economic topics, and all I could say was, huh? But I did learn that the pieces of plaster were actually cakes.
It was a kind of funky exhibit, and the VR is interesting and the comparison-contrast of topics was a bit jarring, but the goals and description were so different than what we actually saw and grokked.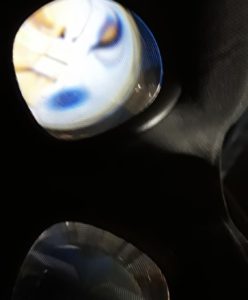 When artists must explain so much about an art exhibition that it is hard to grasp the intention and viewers are that deeply perplexed, I'm not sure if their goals are being met.
The next exhibit on the third floor, was "Refiguring Binaries", a rotation of films. We caught part of the program: "Karst" by Snow Yunxue Fu was a fanciful series of wildly colored, psychedelic landscapes that was appealing and even breath-taking. Meriem Bennani's "Fardaous Funjab" was an entertaining look at Muslim women's fashions, in the format of a chatty TV show featuring a woman who makes stylish clothing for Arab women. Moreshin Allahyari's "She Who Sees the Unknown: Huma" was a spare, chilling story about a woman's visions.
My daughter and I enjoyed viewing these exhibitions but there was a definite disconnect with the VR exhibit. I know, I know, I know that art does not need to be straight forward; it can have multiple layers; it should jar you at times. But my teen and I certainly did not grasp the themes here, even if we did enjoy it.