On the top floor of Pier 59 it was pretty much impossible not to feature in somebody else's selfie. There were strident leopard-print fashionistas strutting and restrutting dramatic entrances into the Oxford Fashion Studio's waiting room (always recorded by a trustworthy friend); leopard-print solo flyers touched up their foundation in phone reflections, occasionally pausing to pose. And then there was me, in my "geography teacher chic" sweater, hovering by a power outlet while I charged a phone whose battery had been guillotined by the winter cold.
A woman in a leopard-print coat (I'm guessing not changing your spots is very much in this season) teetered over to charge her phone on the other outlet and we loitered together. 'Perfect moment for an interview,' I think.
"So, do you know any of the designers' work?" I ask.
She looks me up and down, her eyes pausing on my scuffed 'day-job' shoes. She looks back at the black screen of her visibly uncharged iPhone and pretends to type.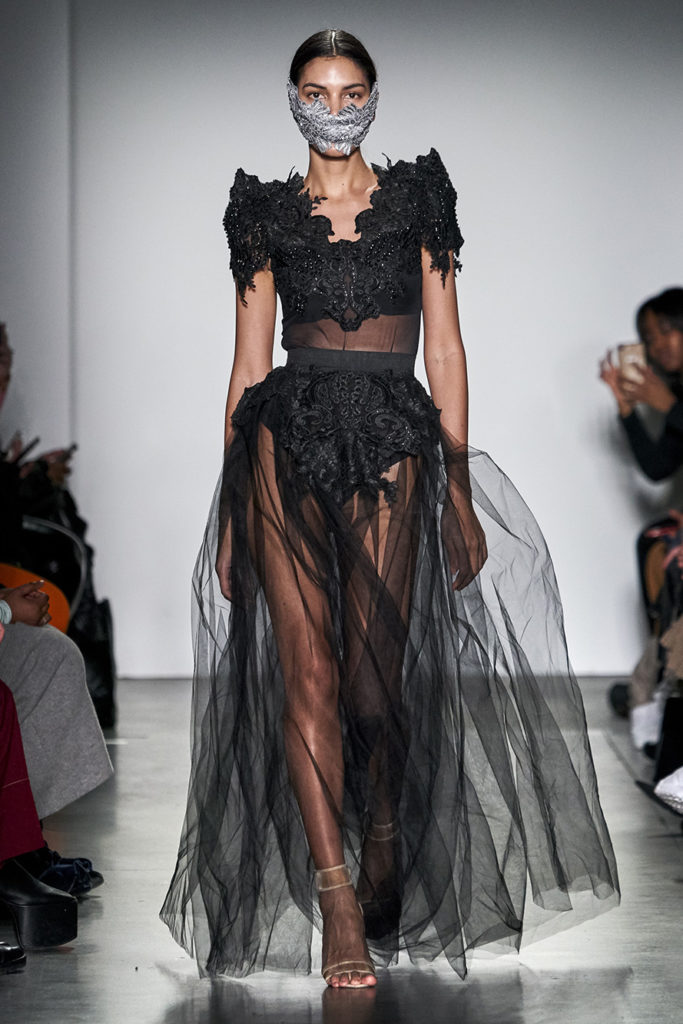 Welcome to New York Fashion Week. I, who have been dressed by my sister for most of my life, and who has the extravert confidence of a particularly wary hermit crab, went along as the introvert's ambassador so that you, fellow mumbler, don't have to.
Rule number 1: Always keep your feet on the ground (or at least wear better shoes)
A perk of Pier 59, an elegant event space in Chelsea, is that its open rooftop has the perfect view of the Hudson River to excuse all awkward solitude. "I'm standing here alone not because of my social ineptitude, but the fine view" your unaccompanied back says to any onlookers. I weaved through the path of iPhone photographers and competitive group photos and finally found a secluded corner.
"No…just be more…extra."
A Texan accent catches my ear. Two women, one decked head-to-toe in leopard print and the other with a milder wildness in a fluffy leopard print coat over blue jeans, are taking selfies against the water. The full leopardess sees me.
"Excuse me…could you come here and take a photo for us? I'll set it up for you and everything"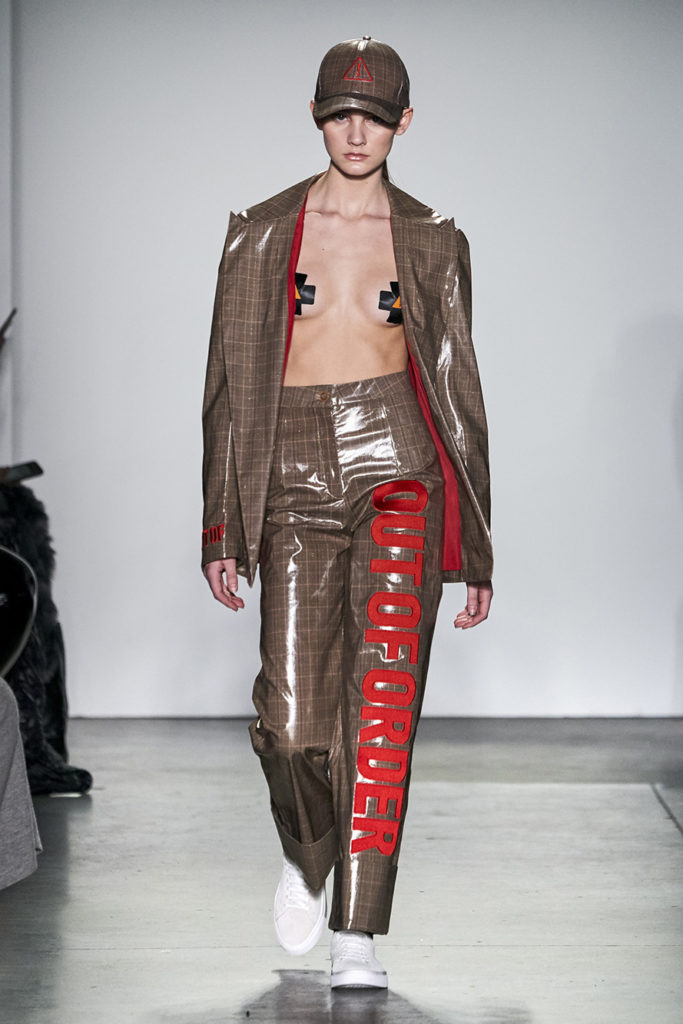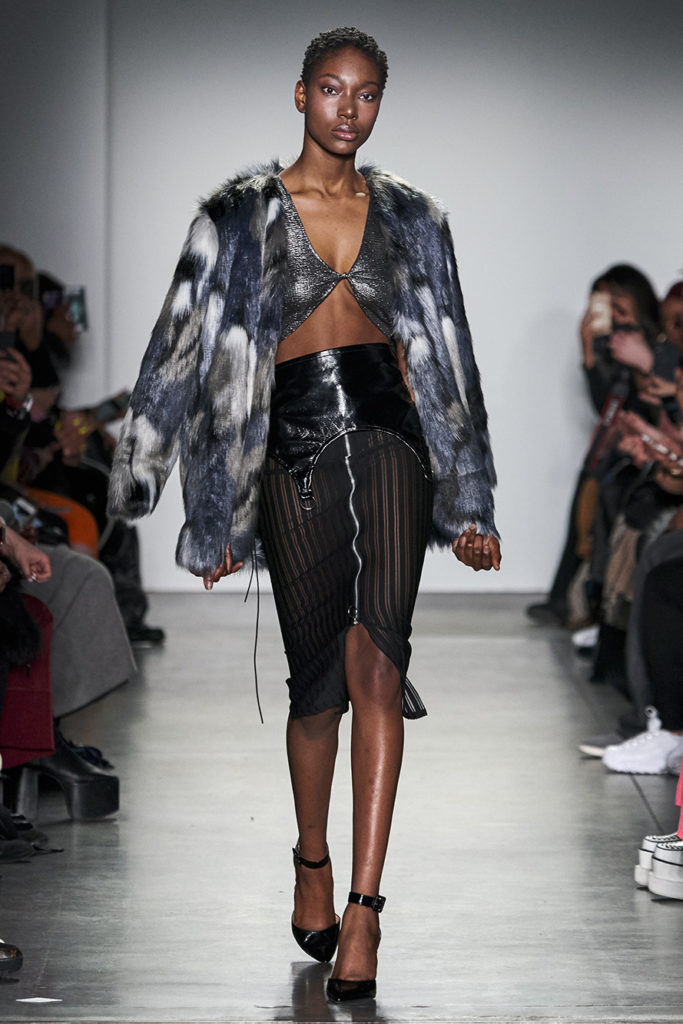 Unable to refuse, I shuffle over and take her phone. They want a photo against not the river, but the busy entrance to Pier 59. I line up the photo on her phone.
"Remember to smize" she stage-whispers to her friend. While photographing them, I ask if either find the setting intimidating. The full leopardess says "Well, if you're shy all you have to do is wear big sunglasses." I notice she is wearing big sunglasses and, when I look around, almost everyone is. The plot thickens.
As I hand the full leopardess her phone, the half-leopardess gives a little cry out. Her scarf has blown off a ledge and down six or seven feet onto a lower part of the roof. She looks up at me as if to say 'if you wouldn't mind…'
"I'll…I'll get it." I say.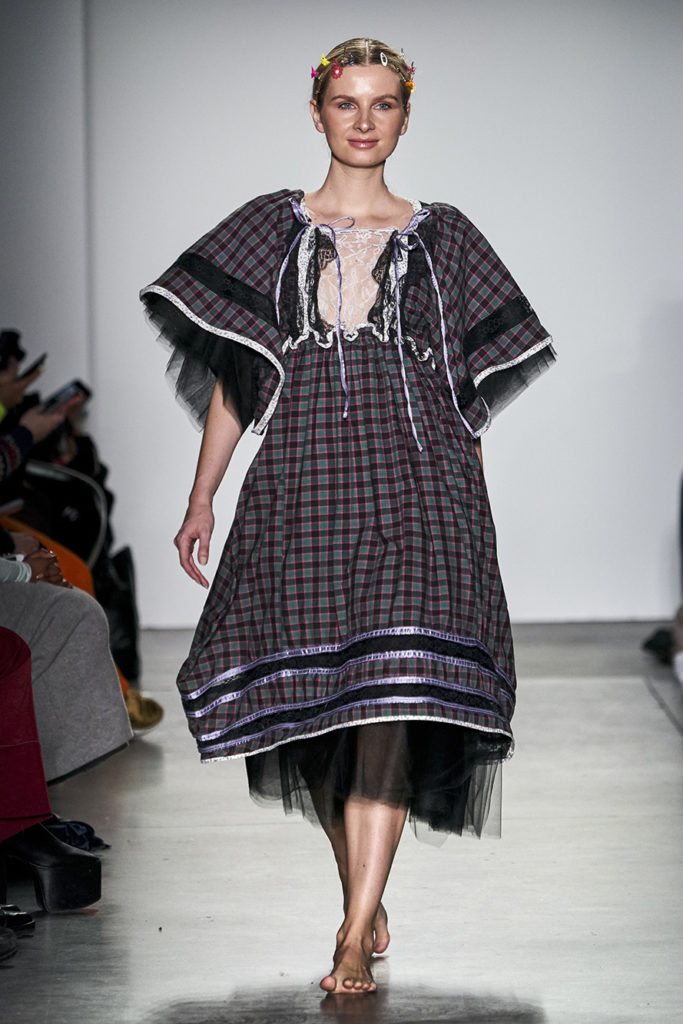 Though there is no risk of my falling too far, the scarf is definitely out of reach. I lie flat on my stomach trying to pinch it between my index and middle finger. I edge closer. And closer. Until it's just in my grasp…when I overbalance and fall, catching myself in a handstand position, shins propped against the wall.
I snatch the scarf and throw it up over the ledge, then return to my permanent handstand. With my arms fully extended, there is no push I can push that will project me back over the wall. Either I fall or I stay there forever, upside down, like a workman's stepladder.
A timid Texan voice: "Well…Thank you so much."
"That's…ok." I say, as they leave me for dead.
I am alone and stuck, feet in the air. And for the first time in my life, I think "you know, this wouldn't be so bad if I had only worn better shoes.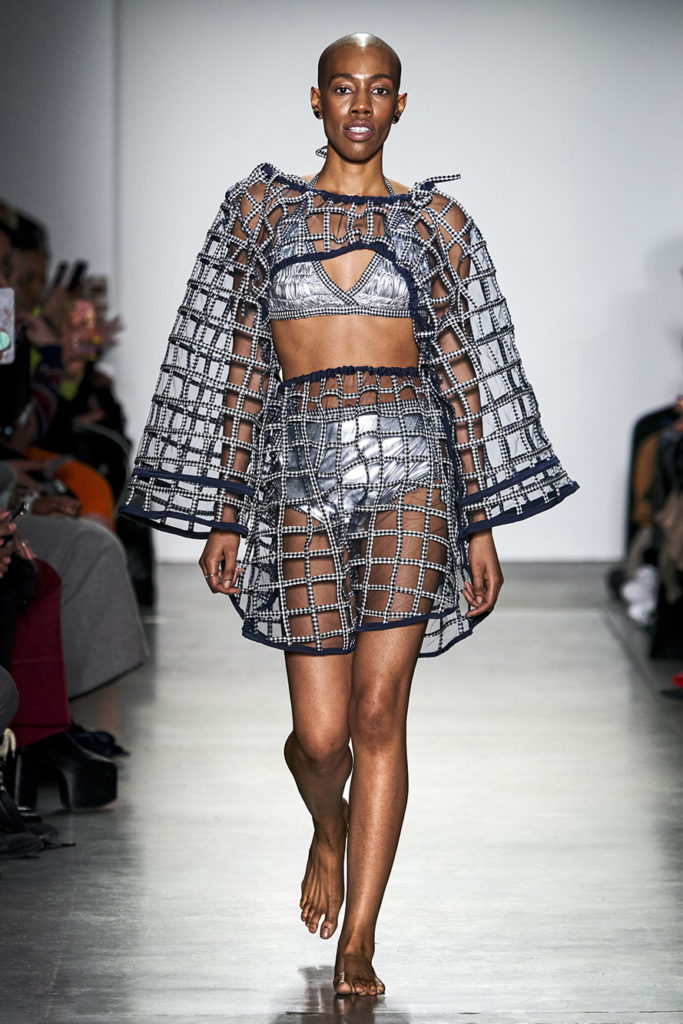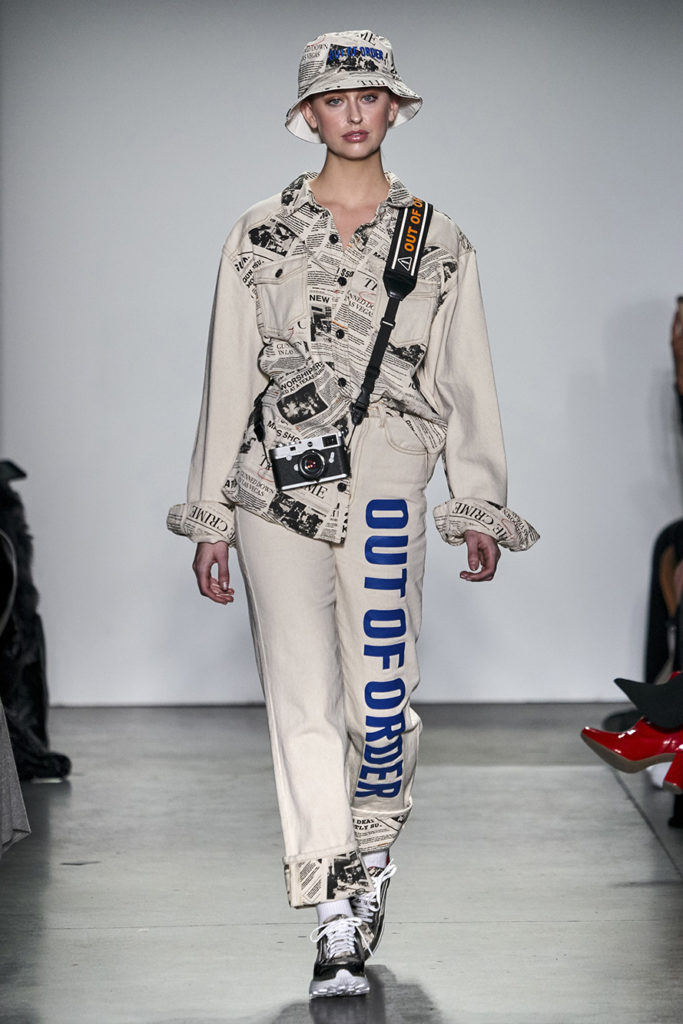 Rule number 2: Hide in (not so) plain sight
The Smith's dwarf chameleon is a particularly impressive animal. While other chameleons use their pigment-shifting powers for social reasons – dominance and mating – the Smith's dwarf chameleon turns all sorts of garish blues, greens and pinks to avoid detection from its predators.
At the Oxford Fashion Studio runway show, bright colors and bold designs were the key to fitting in.
Feeling slightly out of place? Get that glitter on your face.
Worried that you don't fit in, choose the pants with the most sequins.
The room was awash with so many eye-catching outfits and patterns that you naturally found yourself resting your eyes on the beige Betty and the grey Gary in the room, just for a moment of ocular relief. This, then, is why my black brogues dangling in the air or my mute dark jeans were like a bright red suit at a puritan's funeral.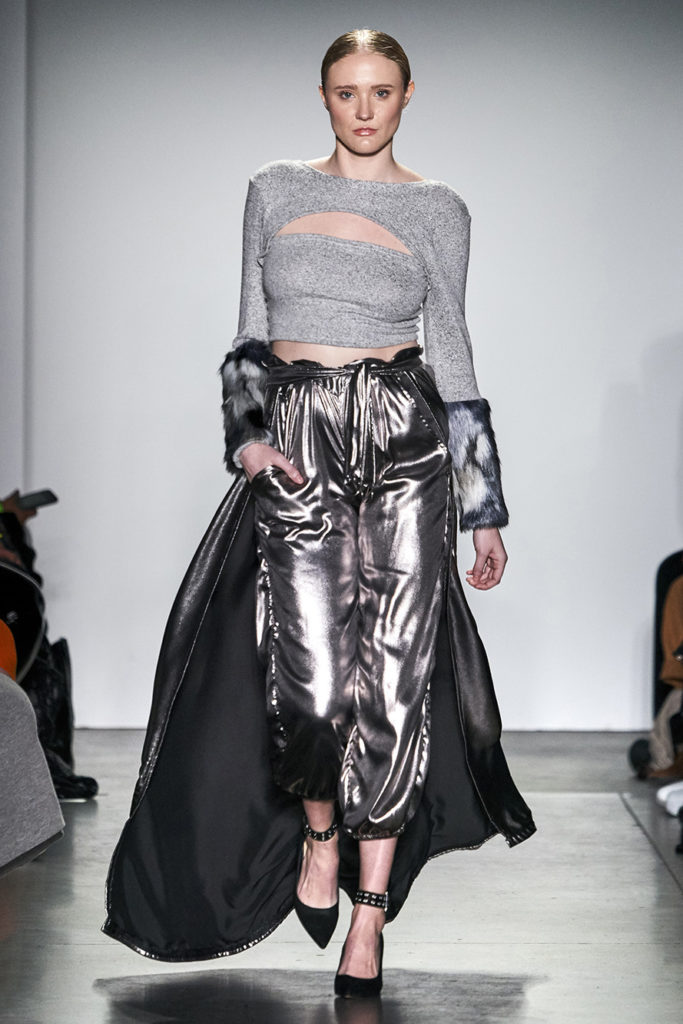 But a few attendees went above and beyond the call of duty.
As we were ushered into the enormous event space, featuring big, burning lights and a runway marked out by rows of chairs, a tall man walked past me in giant glitter-spangled ski boots and what looked like a scarlet croissant on his head. As if out of reverence, he had been given plenty of room in the throng, and I saw him get ushered, alone, to the front row of the runway by a man carrying a clipboard.
As he passed,  I heard someone whisper "That is so. Damn. Cute. Must be influenced by the supermoon."
The whisperer's friend followed up with "Oh my god…I LOVE the moon."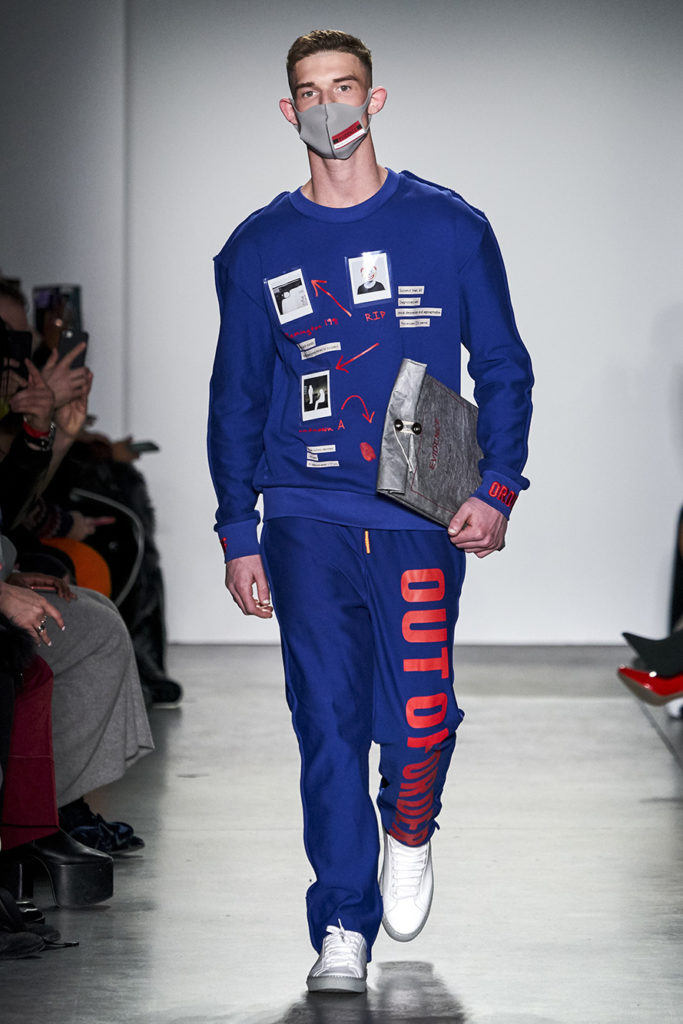 Also in the front row, just a few seats from our Texan leopard-friends, was a woman with large mirrored sunglasses (must be extra-shy), and slicked back white hair. To complete her Lady Gaga look she was wearing a stony expression and what looked like an enormous dollar bill in the form of a dress, with sleeves made of pennies and nickels. While the generous thinker would offer the explanation that this dress was a comment on the over-commodification of fashion and the capitalist-driven throwaway culture contributing to our current eco-disaster…I'd bet good money that the dollar dress was actually just a dollar dress.
But what I did realise, is that much like the Smith's dwarf chameleon, these two statement dressers not only fit right in, but were also given their silence and a coveted front row seat. The fast-track to success at fashion week, especially if you don't want to talk at all, is to let your outrageous outfit do all the talking, and stand out to fit in.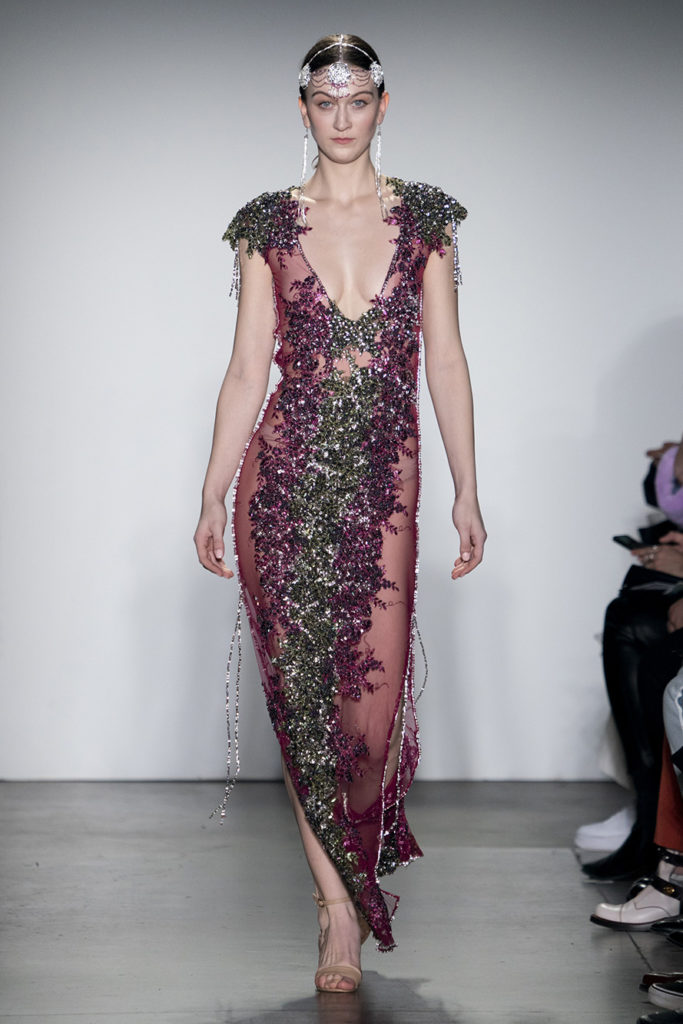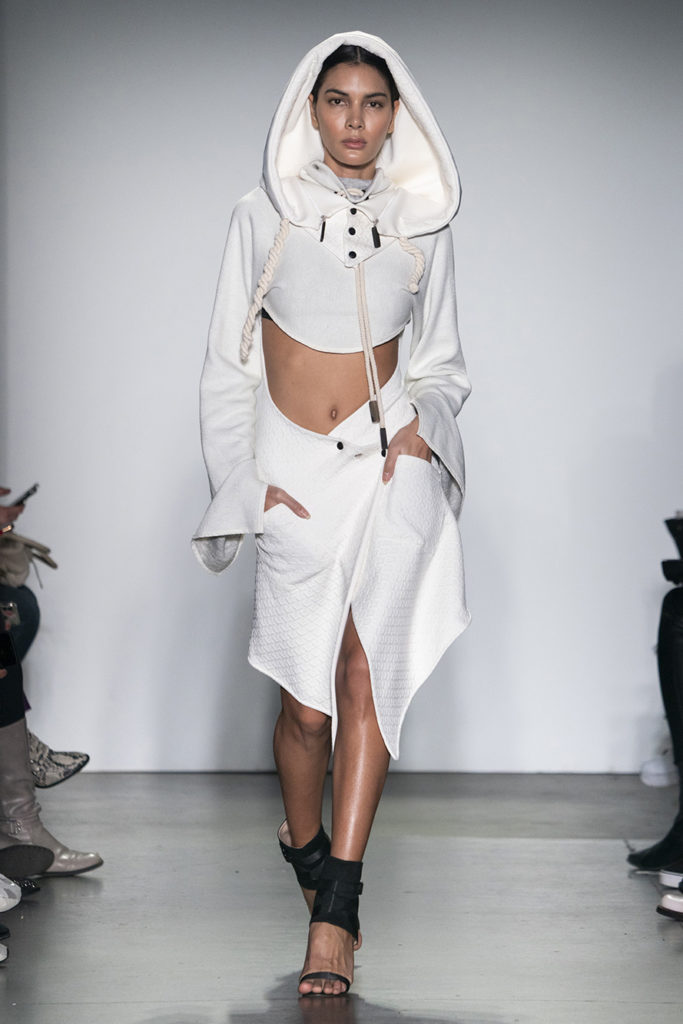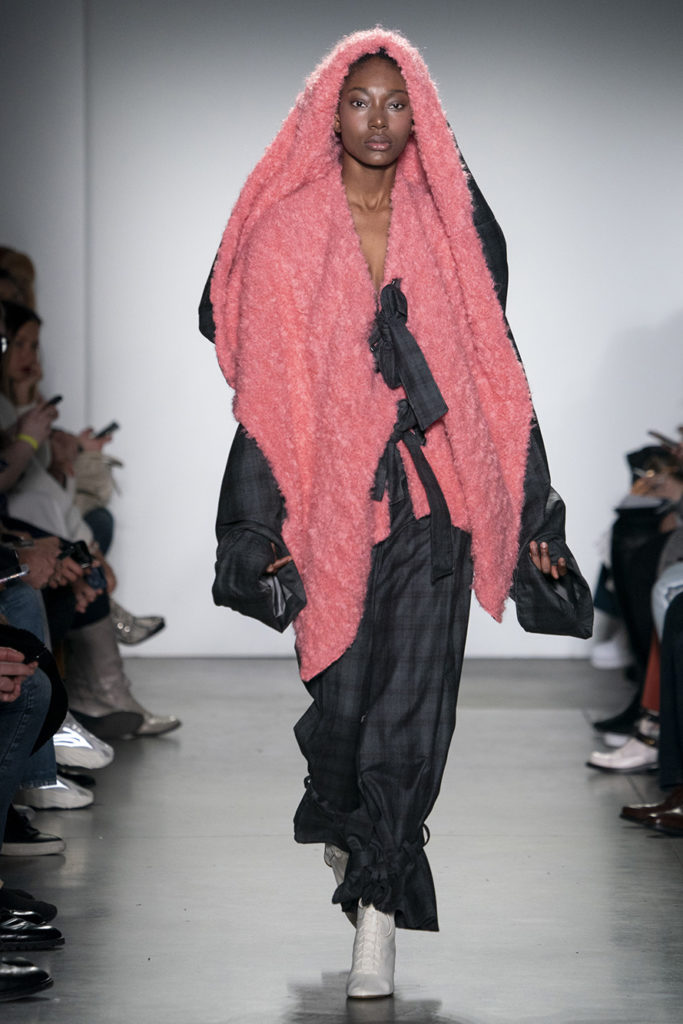 Rule number 3: Bring your armour to battle
The main lights dropped and the models processed out on the runway. As a novice to the fashion world, it strikes me as unnatural how each model was intentionally expressionless – whether wearing an elegant ball gown accessorized with a hat, or a sweater accessorized by a bag of French fries from which the model occasionally snacked. Their blank expressions made me wonder if this focal point of fashion – the model on the runway – was the inspiration behind so many fashionistas' reluctance to smile and the associations of unfriendliness that the fashion world seems to emanate. From Anna Wintour to Victoria Beckham, dimpled smiles were out and a sleek, hardened cheekbone-boosting pout had long been in.  Either way, the men and women walking the runway would be wise to unionise before the AI renaissance, as theirs will be the first profession to fall to a robot more capable of stoic inexpression than any human.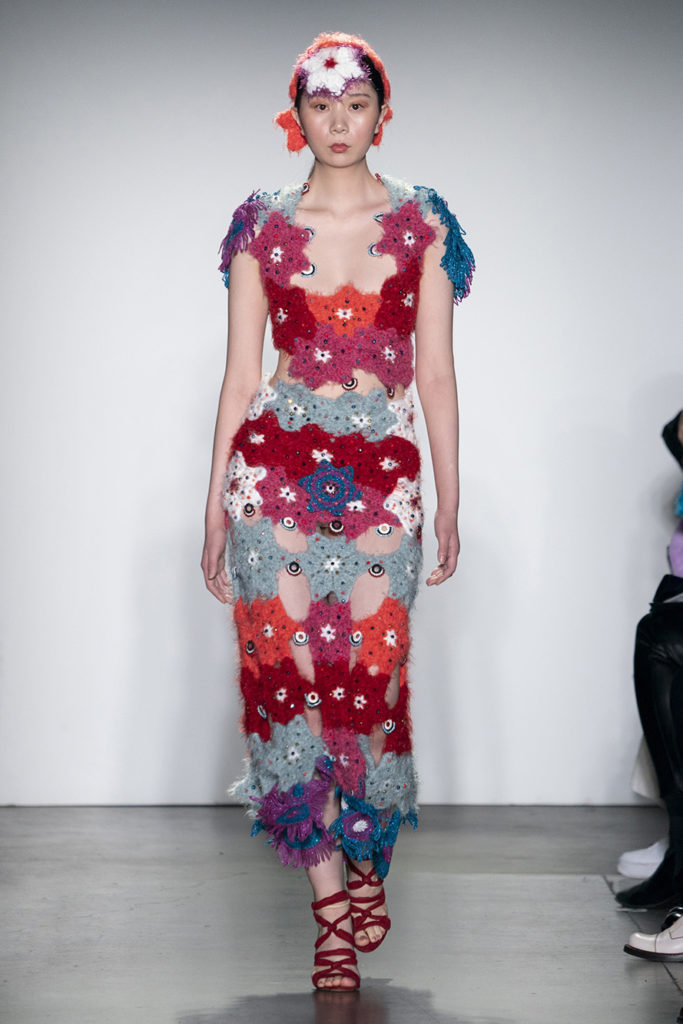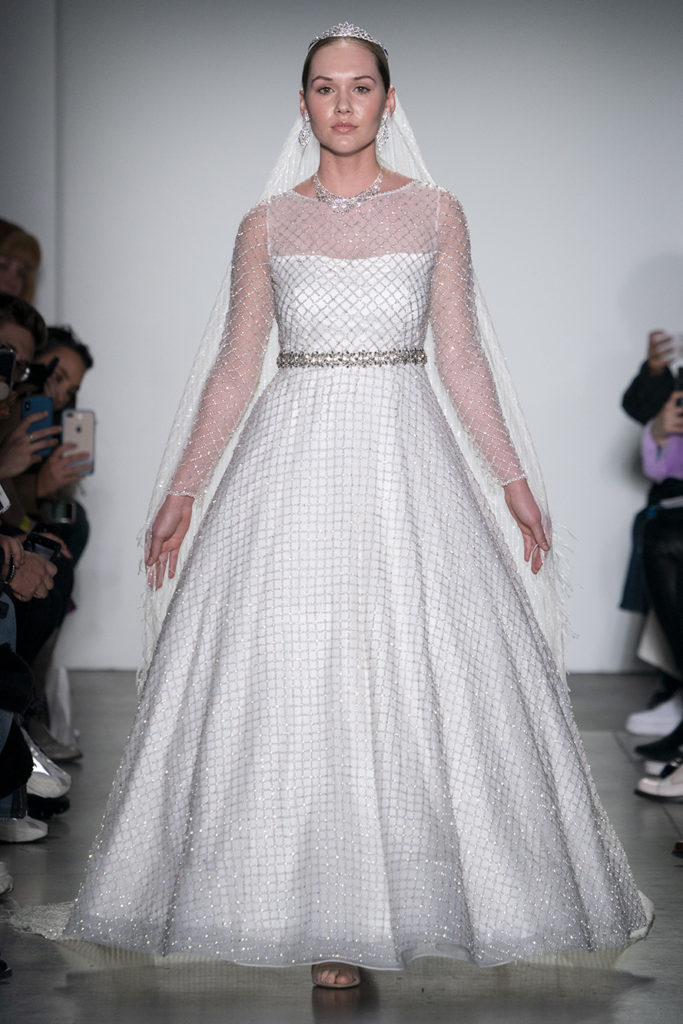 Where each designer expressed themselves most, other than the actual clothes, was in their choice of music. The industry standard seems to be electronic music as void of expression as the models; an auditory palate cleanser to keep energy high but distractions low.
Most engaging, both in design and music choice, were the striking outfits offered by LA (by way of Indonesia) designer Pherencouture. Accompanied by tense cinematic orchestral music, reminiscent of battles scenes in blockbuster epics, the models carved up the runway in lace dresses that were complimentary in their balance of opposites. As bold as they are delicate, sexy as they are sophisticated, the gowns were intriguing, and all the more so thanks to the matching lace masks, lending the models a warrior element that synchronised well with the epicness of the soundtrack.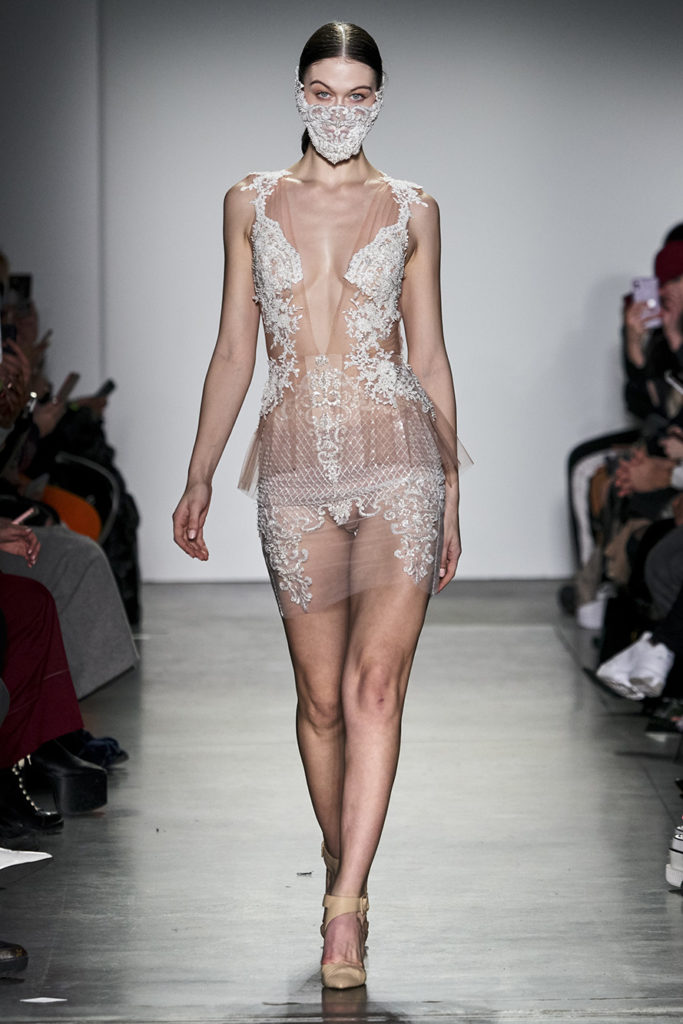 I asked the designer Pheren Soepadhi about her collection:
Pheren Soepadhi: My collection has been always dark elegant, feminine but powerful at the same time. I mixed the music by myself to represent my collection based on what I was inspired by
Zander Sharp: Do you think shy people do well in the industry? Can clothing be like armour?
PS: It's funny that you ask! I actually consider myself an introvert; the masks that my models wore for yesterday's show actually represents my introverted tendencies.
Pheren Couture has repurposed a perceived weakness into a strength, and in doing so uncovered another approach to not just survive, but possibly conquer, the fashion world without an extrovert's flamboyance.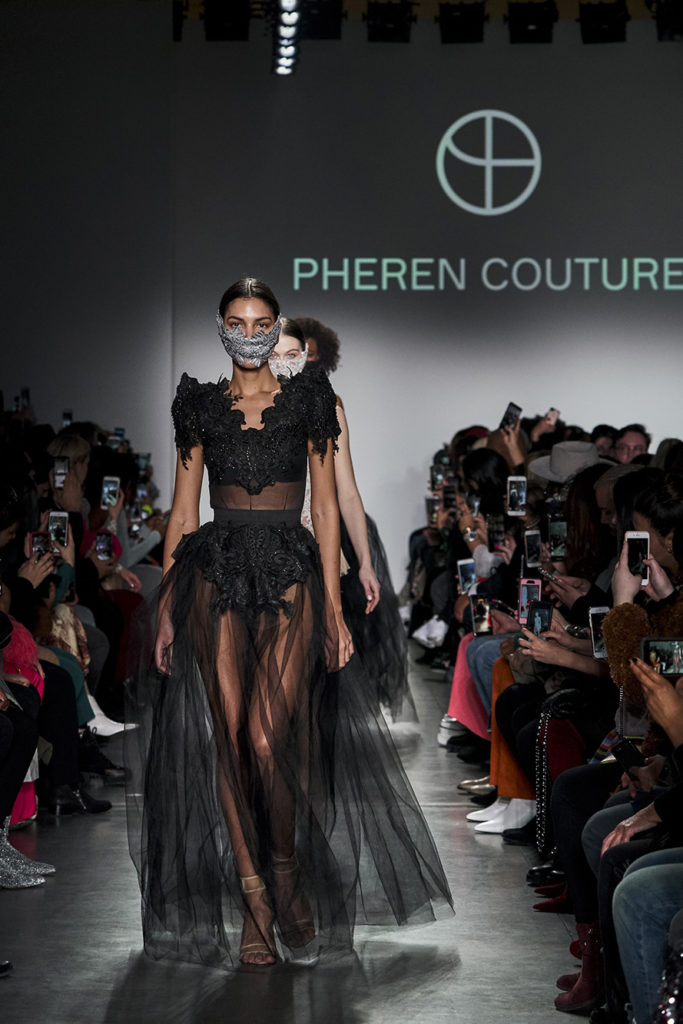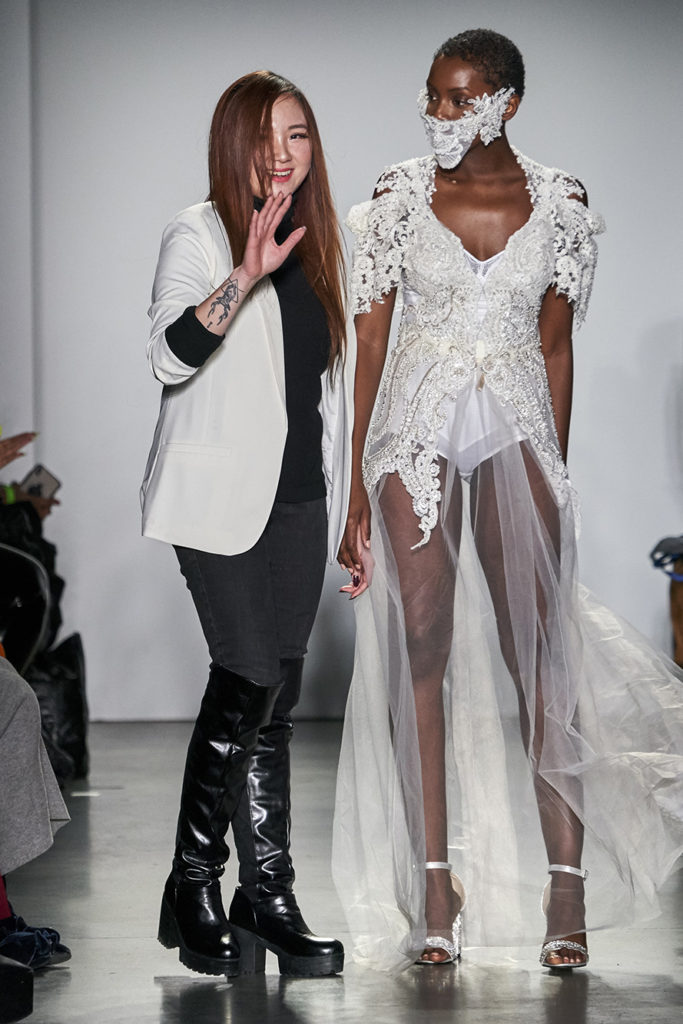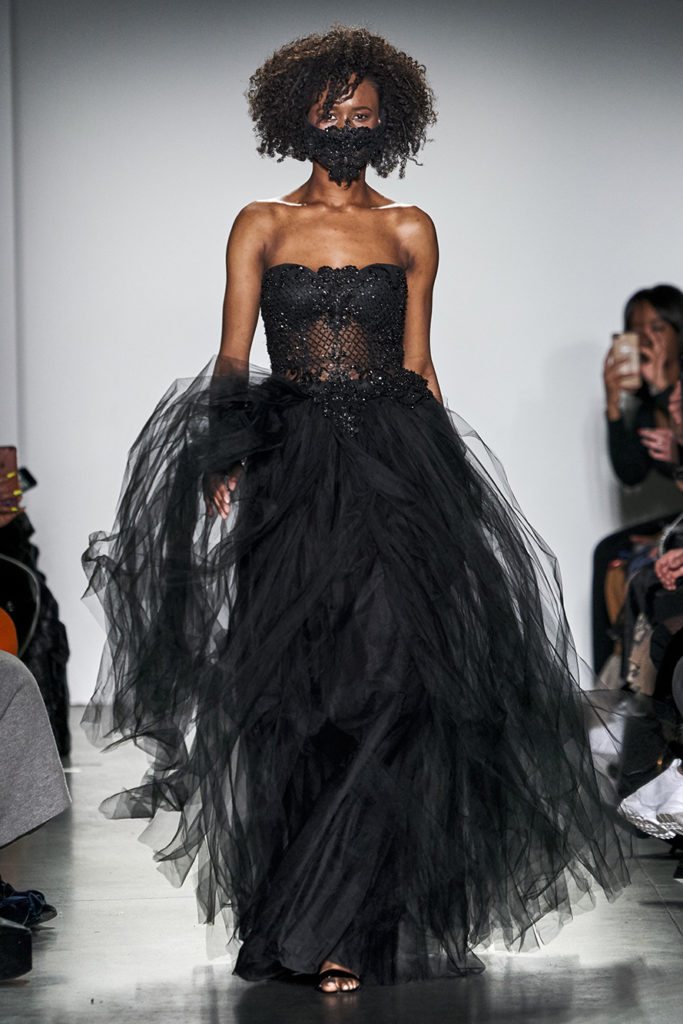 Rule number 4: Find friends with long shadows
Not all of us have the right pair of shoes, the confidence of the man on the supermoon, or Pheren's design chops to see us through Fashion Week. As the crowd left the Oxford Fashion Studio's show, ushered out fairly quickly, I saw a lifestyle blogger I had met (one of many) in a reverie sitting on some stairs by the entrance. I went to ask her how she was doing.
She looked up to a woman near her with a mixture of admiration and vague wistfulness. This woman, dressed in figure-hugging leggings and a (you guessed it) leopard-print blazer, was posing for photos and laughing with an effortless and infectious joy.
"She's an influencer" my staircase sitter sighed at me. "But then, she got me here, so that's pretty dope."
I asked her why she, as an obviously quite shy person, would want to come to a fashion show in the first place.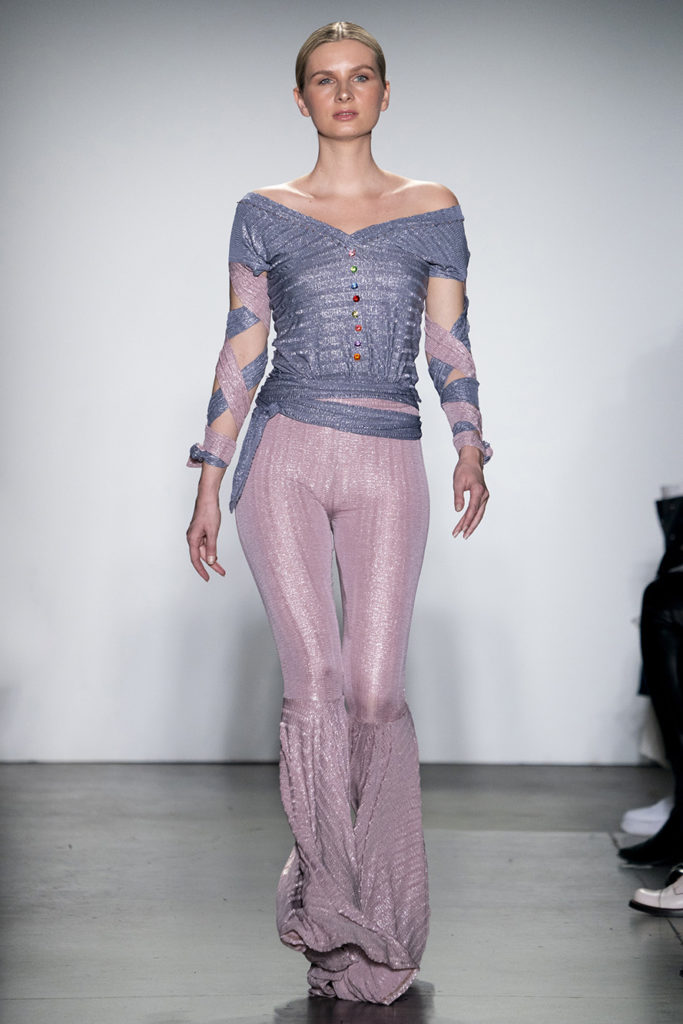 "What I get from this, is I'm gonna wear more sheer, more lace, more leather, and what I saw on the runway. I'm definitely going to be like sheer with leather, face garments maybe."
"French fries?"
"The french fries was dope…I would do that. Anyway, I get to come here and see what's trending. ."
The easiest path through fashion week that will leave you unscathed, it seems, is to have a friends with high follower counts.
If you're a shy fashion enthusiast or even a nervously curious onlooker, track down a blue-tick buddy to show you the ropes, and maybe to help you up if you, as I did, fall flat on your face.