The Council of Aspiring American Fashion Designers (CAAFD) is a non-profit organization whose goal is to bolster aspiring fashion designers and in their own words, "help those emerging designers get a foot in the door."
Chelsea Piers was packed and of the three designers presenting, the first was Mouton Blanc. In French, ​mouton blanc​ translates to "white sheep," and while the name triggers memories of ​The Little Prince​ for me, it was clear that for the designer, stuffed animals are a great source of inspiration. Shaggy capelets and creature-like silhouettes appeared regularly much to my delight. However, the underpinnings of the line seemed to be a little loose as it lacked cohesion. Ranging from faux-fur lined coats, to bright plaids, to finally a geometric, lacey jumpsuit. Themes of femininity and masculinity, children's toys, and occasionally minimalism all inhabited the same space resulting in a line that left me confused. At least it managed to not be entirely dull.
The next to show was a line called "Imi" by designer Imogen Evans. Immediately the tone shifted and the models strutted down the catwalk wearing constricting surgical masks, some adorned with tentacle like strips of fabric. Lines were sharp, cutouts were rough, and gowns were scarce. At first glance, the face masks made me think about the necessity to wear protective garbs in certain cities in China because of the severity of the air pollution, however as the show went on it began to seem more fetishized. The black models in the collection were significantly less dressed and had obvious cut outs in vulnerable areas, while the white models (acting as the majority in the collection) were covered up conservatively. One black model was dressed in a top with pink embroidered nipples. This overt sexualization and fetishization of the black body is unfortunately nothing new in fashion, but in the year 2019 one should realize that putting pink nipples on a black body is an intensely problematic gesture. Overall "Imi" was a volatile line with an apocalyptic undercurrent.
Lastly, designer Ruth Zabetta showed her couture collection. If I were to attempt to simplify down to two words they would be, "upholstery chic." Zabetta was able to turn out some decently strong silhouettes all while balancing leathers, shags, and thick fabrics. Certainly the most cohesive line in the show, Ruth Zabetta couture still lacked a certain nuance and came across as generally uninspired.
The CAAFD promises emerging talent exposure and a platform in one of the fashion capitals of the world. But it begs the question: when given this great opportunity, who thrives and who flops?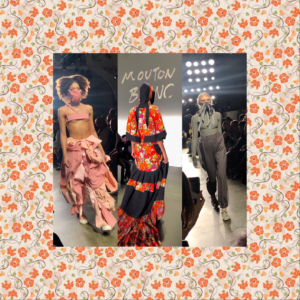 Fashion review and photos by: George Kachareva